Intense 'Gotham' Trailer Teases The Final Four Episodes Of Season 1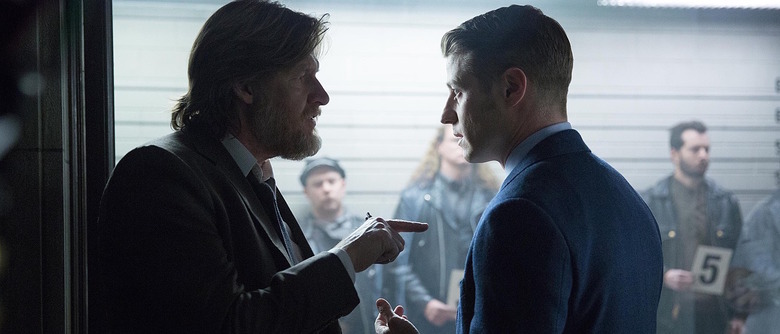 As anxious as Gotham fans are for the show to return, you really might as well enjoy this little hiatus while you can. Because when it returns for its final four episodes later this month, it's going to be a breathless race to the finish.
A new trailer for the home stretch of Gotham Season 1 teases tons of action. Bruce is convinced his dad has a secret, Oswald Cobblepot is making declarations of revenge, Jim Gordon is getting growly, and... well, just hit the jump to see it all for yourself. 
Fox posted the Gotham final four trailer on YouTube.
And here's a different cut of the same trailer with some new footage.
Four episodes may not sound like much, but a show as plot-heavy as Gotham can do a lot in that time.
Fish Mooney makes only the briefest of appearances here, but her storyline is bound to pick up speed in the coming weeks. Jada Pinkett Smith has said she isn't expected to return for Season 2, so we can expect to see her get some kind of sendoff. Not to say she'll necessarily be killed off: "She could show up anywhere, you never know," teased Pinkett Smith.
While Fish Mooney eyes the exit, another villain will be making his debut. Milo Ventimiglia's Jason Lennon (a.k.a. the Ogre) will stop by in the very next episode, and it seems he has his sights on Barbara Kean. Which is very bad news for her, as he's known to "dispose of" pretty young women who don't live up to his impossibly high standards.
The city of Gotham seems to be a magnet for deranged baddies, but thankfully the show is throwing us (and Jim) another good guy in the form of Lucius Fox. Chris Chalk will make his debut in the second-to-last episode as the Wayne Enterprises employee, who'll serve as "a moral beacon for young Bruce Wayne." The character will likely step up for an even bigger role in Season 2.
Gotham returns April 13, with the season finale set for May 4. And the show's already been renewed for a second season, so you can rest easy once this season wraps up.