'Arrow' Star Stephen Amell Is Casey Jones In 'Teenage Mutant Ninja Turtles 2'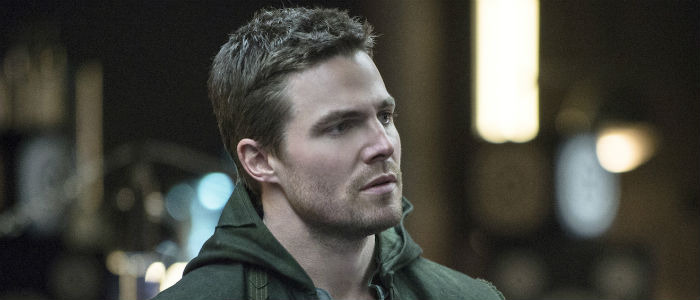 Casey Jones is officially joining the Turtles and maybe he'll have a quiver along with his hockey stick. Stephen Amell, who plays the title role on CW's Arrow, has been cast as the friendly vigilante in David Green's Teenage Mutant Ninja Turtles 2. He's the second new addition to the cast which brings back Megan Fox and Will Arnett along with everyone's favorite heroes in half shell. Read about the Casey Jones casting below.
Variety broke the news of Amell playing Casey Jones. According to their report, he was one of a half a dozen actors who tested for the role over the weekend and landed it because of a chemistry with Megan Fox.
Somebody find me a hockey mask!!! #TMNT2 pic.twitter.com/V9bw4ok3VB

— Stephen Amell (@StephenAmell) April 1, 2015
Casey Jones was played by Elias Koteas in the original series of films. He's sort of a wild card hero without any powers except a ton of bravery, the ability to take a beating, and a great skill set with all sorts of blunt objects. The signature Casey Jones look is a goalie mask and hockey stick. For this time, he'll likely team up with the Turtles and be a love interest for April O'Neil.
Other popular Turtles characters Bebop and Rocksteady are also expected to join the sequel, which starts filming in April. Victoria's Secret model Alessandra Ambrosio also has a role in the film, and shot her scenes with Will Arnett last week. You can read more about, and see images, here.
It'll be good to see Casey Jones back on screen and Amell is a great piece of casting. He's obviously got the physicality and charisma for the role. Plus, coming from a popular TV show, he brings in a potentially new audience who may not really care about the Teenage Mutant Ninja Turtles.
Also of note, rumors are that this film might be called Teenage Mutant Ninja Turtles 2: Half Shell.
Teenage Mutant Ninja Turtles 2 opens June 3, 2016. What do you think of the Casey Jones casting?