Disney's 'Mulan' Live-Action Remake In Development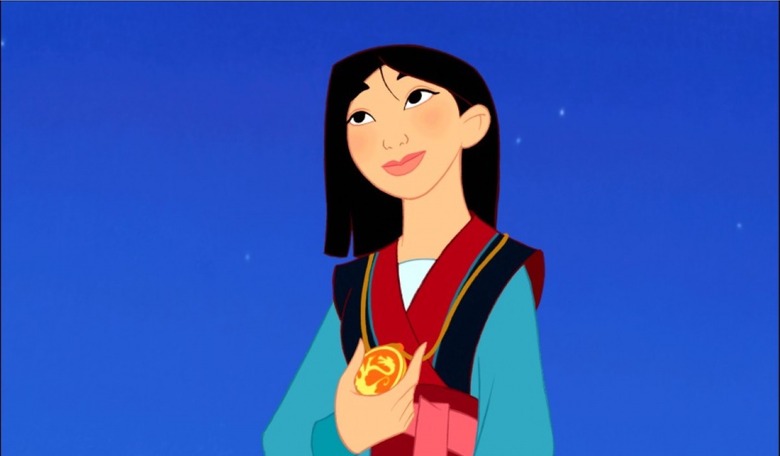 Following in the dainty footsteps of Cinderella and Belle, Mulan will be the next Disney princess to undergo a live-action makeover. The legendary Chinese warrior made her Disney debut in a 1998 animated feature. Get all the details on the Mulan live-action movie after the jump.
THR writes that Disney has just picked up a Mulan script from Elizabeth Martin and Lauren Hynek "that centers on the Chinese legend of Hua Mulan, the female warrior who was the main character in Disney's 1998 animated film." Chris Bender and J.C. Spink (We're the Millers) will produce.
The trade's specific wording suggests Martin and Hynek's screenplay might hew a little closer to the original (non-Disney) source material. However, we don't have any more details and we don't know what might change between now and the start of production.
Disney's Mulan centered on a young woman who doesn't quite fit with the expectations of her society. When her aging father is called to war, she disguises herself as a man so she can take his place in the Chinese army. With some help from her small dragon friend, Mulan helps defeat the Huns, becomes a decorated military hero, wins the heart of her army captain.
(Which, yes, technically means Mulan isn't a princess, just the wife of a powerful military leader and a revered warrior in her own right. But she is still considered part of the Disney Princess franchise.)
Disney's Mulan was a big hit critically and commercially, though it didn't quite attain the same heights as earlier films like Beauty and the Beast and The Lion King. Mulan earned $304 million globally and spawned a direct-to-video sequel, 2005's Mulan II.
Remaking their animated classics has proved a massively successful endeavor for Disney. Their most recent live-action retelling, Cinderella, has taken in $335 million over three weekends. The studio has several more such projects in the works, including The Jungle Book (2016), Pete's Dragon (also 2016), Beauty and the Beast (2017), and Dumbo (TBA).
Revisit one of the 1998 Mulan's hit songs below: