Rumor: Shrek Could Return In 'Puss In Boots 2'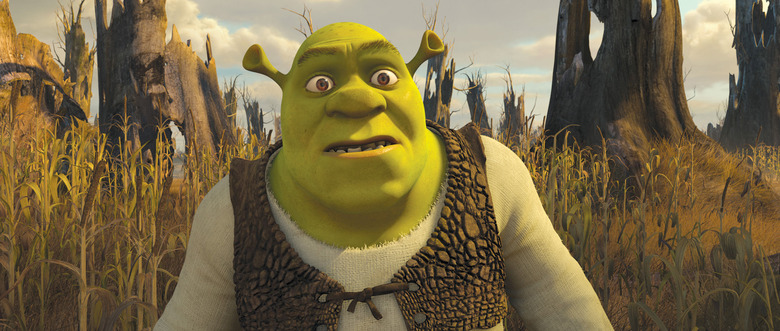 It seems every other beloved fairy tale character is making their way back to the big screen, so why not Shrek? Actor Antonio Banderas hints that the not-so-jolly green giant might be back for Puss in Boots 2: Nine Lives and 40 Thieves, currently in development at Fox. More on the possible Puss in Boots 2 Shrek return after the jump. 
Banderas offered up this juicy little rumor during an appearance on the Empire podcast:
I heard some rumors that Shrek may be coming back. That would be great. [Slips into Puss in Boots voice.] Shrek doing a cameo in my movie. Uh huh! [Laughs, returns to normal voice.] I would like that.
The character of Puss in Boots made his first appearance in 2004's Shrek 2. He proved popular enough to get his own Shrek-free spinoff movie in 2011. Additionally, he debuted his own TV series this year on Netflix, titled The Adventures of Puss in Boots — though it's Eric Bauza, not Banderas, voicing the title character in that one.
Shrek himself hasn't been seen on the big screen since 2010's Shrek Forever After, which was billed as "the final chapter" in his story. However, based on Banderas' comments it seems the powers that be realized there's still a little more story to tell. Or, more accurately, still a little more money to be made. If Shrek does return, we can probably assume he'll be voiced once again by Mike Myers.
Puss in Boots 2: Nine Lives and 40 Thieves has been in the works for years already, but as Banderas points out a lengthy process isn't abnormal for an animated feature:
The process with these movies is way longer than people think. A lot of people gotta participate in the creation of the script and story and narrative, everything. [...] So we are in the process. [...] They are now restructuring everything and probably by the end of the year we are going to start just laying down the tracks, the new recording. It's going to take a while. It'll take probably a couple of years just to get the movie done.
Hopefully they find some time in those couple of years to come up with a less unwieldy title.
If you'd like to hear Banderas' comments for yourself, in full, check out the latest episode of the Empire podcast on iTunes. The Shrek talk begins around the 23-minute mark. Puss in Boots 2: Nine Lives and 40 Thieves does not yet have a release date.