'Beauty And The Beast' Adds Broadway Star Audra McDonald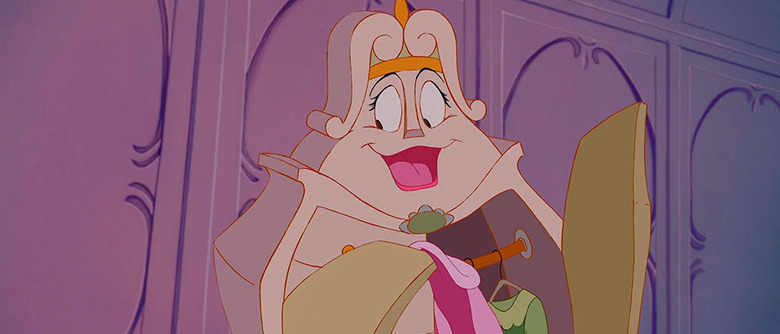 Disney's upcoming live-action remake of Beauty and the Beast is going to be a musical. And when you're making a musical, it never hurts to get some help from a Broadway superstar. Tony winner Audra McDonald has just signed on in a supporting role, joining Emma Watson, Luke Evans, and Dan Stevens.
Her casting suggests the upcoming film will be taking some cues from the stage adaptation, which includes some numbers that weren't in the movie. More on the Beauty and the Beast Audra McDonald casting after the jump. 
THR reports McDonald will play Garderobe, which means "wardrobe" in French. Along with Mrs. Potts (Emma Thompson), Garderobe is one of several servants transformed into animate objects when the Beast's castle is placed under a curse. (This seems like a pretty messed-up way to punish a young boy for being rude to a random stranger, but that's a whole other conversation.)
As previously reported, Stevens is playing the Beast, and Evans is Belle's arrogant would-be suitor Gaston. Josh Gad plays Gaston's buffoonish sidekick Le Fou. Kevin Kline is Belle's father Maurice, whose capture by the Beast inspires Belle to volunteer to take his place.
The wardrobe offers a warm welcome to the frightened Belle (Watson) when she first arrives at the castle, but otherwise she isn't a major presence in the film. She doesn't even have a proper name in that version, as she's simply called "wardrobe." The character gets a bit more attention in the stage version of the show, where she gets a solo in a song ("Human Again") that was cut from the movie.
Bill Condon's Beauty and the Beast will feature new recordings of several classic tunes from the 1991 movie, along with original songs by Alan Menken and Tim Rice. McDonald's presence suggests "Being Human" might be one of the "new" songs featured, since there doesn't seem to be much point in hiring a big name for a bit part with no singing.
McDonald has won more performance Tonys than any other actor in history. Shows she's starred in include Ragtime, A Raisin in the Sun, and Porgy and Bess. Onscreen, she's known for her series regular role on ABC's Private Practice. Additionally, she played the Mother Abbess in NBC's Sound of Music Live! in 2013.
Beauty and the Beast starts shooting this May in London. Stephen Chbosky and Evan Spiliotopoulos wrote the script. Disney has the film slated for release on March 17, 2017.
Here's a fun video of McDonald singing Yahoo! Answers on The Tonight Show with Jimmy Fallon, for some reason: