'Jurassic World' TV Spot: The New Attraction Kills For Sport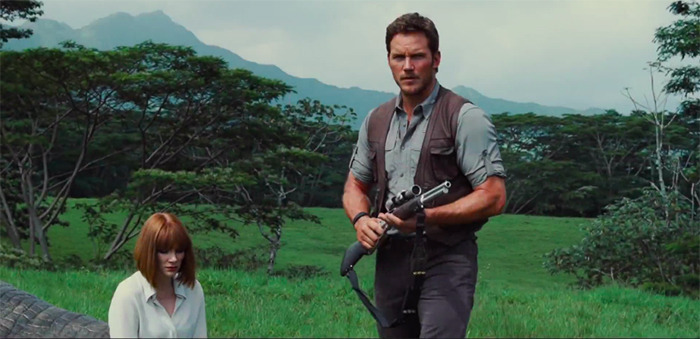 The latest Jurassic World TV spot features a bit of new stuff, and a pretty dire observation from the character played by Chris Pratt. He notices that the genetically modified new dinosaur attraction at the park seems to be killing other dinos for sport — and that's probably just a hint of the mayhem to come. Check out the spot below.
Thank AMC and the event programming of the Walking Dead finale for this new spot.
Many big movies have already shown off a lot more than we've seen from Jurassic World much earlier than this. But this is only the third TV spot or trailer we've seen for the movie, following the first official trailer and the Super Bowl spot. There will probably be at least one more theatrical trailer that shows off a lot more footage, but unless you've gone looking for spoilers (they're definitely out there) you'll probably be able to go into the film without knowing too much about what's in store from the re-opened park.
Jurassic World opens on June 12, with a cast that also includes Bryce Dallas Howard, Irrfan Khan, Nick Robinson, Ty Simpkins, and BD Wong.. TV Spot via Universal.
Steven Spielberg returns to executive produce the long-awaited next installment of his groundbreaking Jurassic Park series, Jurassic World. Colin Trevorrow directs the epic action-adventure based on the novel "Jurassic Park" by Michael Crichton. Frank Marshall and Patrick Crowley join the team as producers.