First 'Fear The Walking Dead' Teaser Trailer Goes Back To The Beginning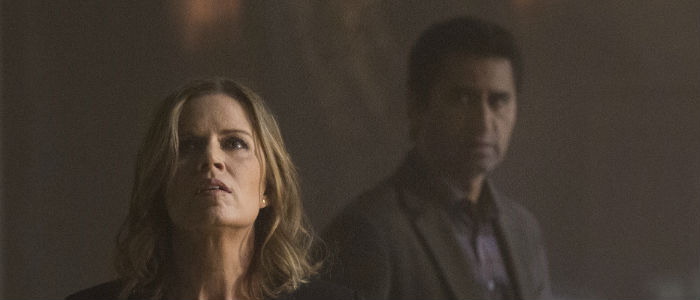 As AMC's The Walking Dead wrapped up its fifth season this weekend, it left us with one last parting gift: the first teaser trailer for the upcoming spinoff, Fear the Walking Dead.
Kim Dickens, Cliff Curtis, Frank Dillane, and Alycia Debnam Carey lead the new series, which takes place in the same universe as The Walking Dead but in an entirely different time and place. Watch the Fear the Walking Dead teaser trailer after the jump. 
AMC debuted the Fear the Walking Dead teaser during the Season 5 finale of The Walking Dead.
At 15 seconds, it doesn't reveal a whole lot about the new series. And the main characters are nowhere to be seen. Nevertheless, it's an exciting glimpse at what's sure to be one of the most talked-about new shows of the year.
The radio announcer doesn't sound too concerned about the "strange virus" going around, but of course we know better. That lonely walker shuffling through the tunnel at the end is just the beginning.
Billed as a "companion series" to The Walking Dead, Fear the Walking Dead will follow an entirely new cast of characters in Los Angeles, at the very start of the zombie outbreak.
Curtis is Sean Cabrera, a divorced teacher raising an angry teenaged son. Sean is dating Nancy (Dickens), a guidance counselor at the school with two kids of her own — Nick (Dillane), a screwup battling a drug addiction; and Ashley (Carey), an ambitious young woman bound for Berkley.
Robert Kirkman, Gale Anne Hurd, Greg Nicotero, and David Alpert (of The Walking Dead) serve as executive producers. Kirkman additionally co-wrote the pilot with Dave Erickson, who will serve as showrunner.Fear the Walking Dead will debut sometime this summer with a six-episode first season. AMC has already committed to a second season, to air in 2016.