Trevor Noah Confirmed As New 'Daily Show' Host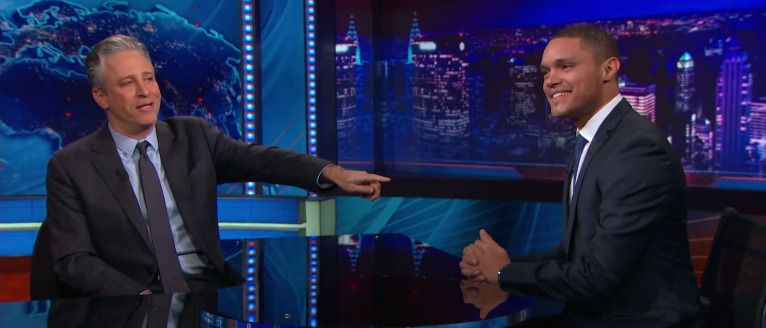 UPDATE: Trevor Noah has now officially been confirmed as the next host of The Daily Show. "I'm thrilled for the show and for Trevor," said Jon Stewart in a statement to the NYT. "He's a tremendous comic and talent that we've loved working with." Original story follows.
In the weeks since Jon Stewart announced his impending departure from The Daily Show, fans have been buzzing about who could and who should take over. But Comedy Central may finally be closing in on a replacement.
A new report indicates that Trevor Noah is the current frontrunner to replace Stewart as The Daily Show host. The 31-year-old South African comedian has been a contributor to the show since December. Read all about the developing Daily Show Trevor Noah story after the jump.
According to an inside source who spoke with Variety, Comedy Central's search for a new Daily Show host has been picking up steam, and that Noah's name is on a shortlist of candidates. Be warned, however, that any Daily Show host updates should be taken with a grain of salt for now. The network hasn't made a final decision and won't publicly comment on any speculation.
Whoever succeeds Stewart will have massive shoes to fill. In the 16 years since he inherited the desk from Craig Kilborn, Stewart has turned The Daily Show from a lighthearted trifle to a staple of American political commentary. The obvious guess is that Comedy Central will promote a current Daily Show correspondent. However, many of the more obvious candidates have already ruled themselves out.
Former correspondents Stephen Colbert, John Oliver, and Larry Wilmore are all committed to their own late-night shows. Samantha Bee is set to host her own show on TBS. Jason Jones just aired his last episode and is also headed to TBS. And Jessica Williams has stated that she is not interested, Hot Tub Time Machine 2 predictions be damned.
At 31, Noah is just a few years younger than Stewart and Kilborn were when they started their tenures at The Daily Show. And he's relatively experienced for his age. For starters, he actually hosted his own late-night show for two seasons in South Africa, according to his official website.
In recent years, he's started to make a name for himself on the international comedy scene. In the U.S., he's appeared on The Tonight Show with Jay Leno and the Late Show with David Letterman, and had a Showtime comedy special. Moreover, he's certainly not afraid of political humor, or hot-button topics like race.
Should Noah get the job, he'd be the second non-white late-night host on the Comedy Central lineup, after Wilmore. That's in sharp contrast to the rest of the late-night scene, which tends to be overwhelmingly white (and male).
Watch Noah's debut as The Daily Show's "Senior International Correspondent" below: