Rumor Control: Sacha Baron Cohen Still Not Playing Freddie Mercury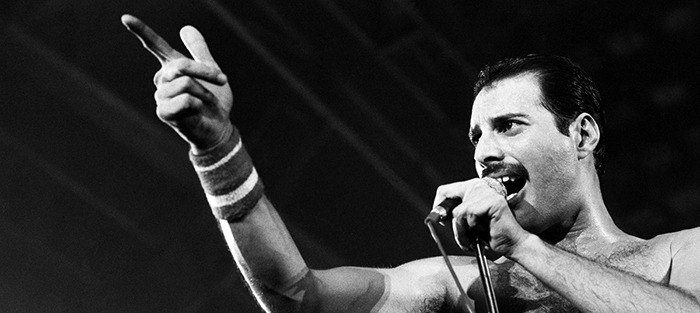 Over the weekend, you might have seen some reports that Queen's manager said that Sacha Baron Cohen had returned to the Freddie Mercury biopic, and that he would not only star in the film, but that he would write, direct, and produce the movie. This was a huge surprise, since Brian May and the other surviving members of Queen had nixed the Cohen-starring version of the film quite a while ago.
And that's the way it remains. Queen's manager did say something about Sacha Baron Cohen returning to the film, but his statement was a joke — a joke that became news thanks to an incomplete transcription.
The Daily Mail originally reported that Queen manager Jim Beach, appearing at the Artist & Management Awards in London where he was honored for his work with the band, said:
You have probably followed the saga of the famous Queen-Freddie Mercury biopic which has been developing in Hollywood for the last seven years. An important breakthrough is that we have now managed to persuade Sacha Baron Cohen to write, produce and direct this movie, and he has also agreed to star.
That was news, and justifiably so. Based only on that quote, it was big news. Trouble is, that quote evidently left off a couple key words at the end that would have made it obvious as a joke.
Queen guitarist Brian May (who was on stage for the event along with Queen drummer Roger Taylor to present the award) clarified that statement on his website, where he said the following. (Bold text is ours.)
[Beach] said that, in response to enquiries about the progress on the Freddie feature film, that Sacha Baron Cohen had been re-engaged to write, produce, and direct the film, as well as starring in all four major roles! I'm afraid some folks might have taken it seriously!
Some folks took it seriously because the "in all four major roles" part of the gag wasn't in the original quote.
As far as we know there is still an effort to make a film about Freddie Mercury and his career with Queen, but the project has been in the works for years and we haven't heard any legitimate news in a while. It was once going to shoot in summer 2014, but then director Dexter Fletcher left the project. Whether or not Ben Whishaw will still play Mercury — he was going to perform the role in the Fletcher version of the movie – is unknown.