'Spectre' Teaser Trailer: James Bond Harbors A Dark Secret [Updated With New Images]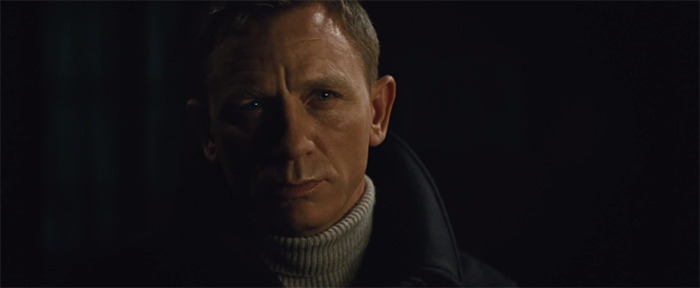 Here's the first Spectre trailer! Daniel Craig returns to play James Bond a fourth time, and behind the camera is Sam Mendes, who returns as director after Skyfall. But most important may be the return of SPECTRE, the villainous organization which has menaced Bond in the past in the pages of Ian Fleming's novels, and on the big screen.
There are hints of Bond's personal past here, and the specific instance of this reveal is going to surprise you.
Update: We've also got some new images from the Spectre shoot in Mexico City, which is going on right now.
The film also features Christoph Waltz as Franz Oberhauser; Léa Seydoux as Dr. Madeleine Swann; Monica Bellucci as Lucia Sciarra; Andrew Scott as Denbigh; Dave Bautista as Mr. Hinx; Ralph Fiennes as Gareth Mallory, aka M; Naomie Harris as Eve Moneypenny; Ben Whishaw as Q; Rory Kinnear as Bill Tanner; and Jesper Christensen as Mr. White.
The most interesting detail there is the quick close-up on a piece of paper that features the Oberhauser name — seemingly Hannes Oberhauser, possibly the father of Christoph Waltz's character — as a guardian for the young James Bond. So there's a deep tie between Bond and what we assume to be the SPECTRE organization right there. Does that make this film a story of brothers, even adoptive brothers, whose lives exist on eerie parallel tracks? We'll find out later this year, at the same time we discover how this film pulls together story strands from both Quantum of Solace and Skyfall.
Update: Here are four new official images from the Mexico City shoot.
Trailer via 007.com. SPECTRE is set for global release on November 6, 2015.
In SPECTRE, a cryptic message from Bond's past sends him on a trail to uncover a sinister organization. While M battles political forces to keep the secret service alive, Bond peels back the layers of deceit to reveal the terrible truth behind SPECTRE.  Sam Mendes returns to direct SPECTRE, with Daniel Craig reprising his role as 007 for the fourth time. SPECTRE is produced by Michael G. Wilson and Barbara Broccoli, from a script by John Logan and Neal Purvis & Robert Wade.