Rumor: Adam McKay In Line To Direct A Marvel Studios Film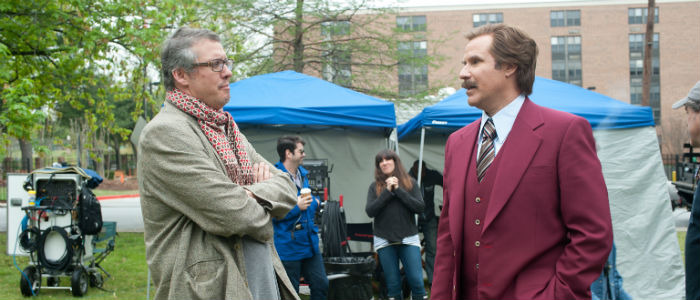 For a few moments last year, Adam McKay almost directed Ant-Man. At least, that's how the situation seemed to be developing. After Edgar Wright left the project, star Paul Rudd called his friend McKay to work on the film. The pair worked together on the script and McKay was considered to helm the project, too. Ultimately, that didn't happen, and Peyton Reed came on board.
According to a new rumor though, McKay must have left a big impression on Marvel. Rumor has it he's now in line to direct a new Marvel movie, something he's been vocal about wanting. Which movie? We don't know know yet but you know we'll speculate below.
The Adam McKay Marvel rumor popped up on Latino Review, which also does a pretty indisputable job of speculating on what movie McKay could do.
Here's the upcoming Marvel schedule:
Captain America: Civil War - Anthony and Joe Russo
Doctor Strange - Scott Derrickson
Guardians of the Galaxy 2 - James Gunn
Spider-Man (Sony) – Drew Goddard
Thor: Ragnarok – TBA
Avengers: Infinity War Part 1 – Anthony and Joe Russo
Black Panther - TBA
Captain Marvel - TBA
Avengers: Infinity War Part 2 - Anthony and Joe Russo
Inhumans - TBA
Looking at those TBAs, it's pretty safe to guess that Marvel will hire a woman to direct Captain Marvel and a person of color to direct Black Panther. That's not set in stone, but it's a good bet. That leaves only two options, Thor: Ragnarok and Inhumans. Thor has increasingly become a franchise infused with humor but McKay would be coming onto a series with a pretty set visual language.
On the other hand, Inhumans is a blank slate. (Or mostly a blank slate. Agents of S.H.I.E.L.D will play a small role in defining that story, as will Infinity War.) Think of it as the Earthbound Guardians of the Galaxy where a unique sense of humor and style could be perfect. McKay would work there.
Also, don't forget McKay has been actively trying to direct another comic book adaptation, The Boys, for several years. This is something he wants and if his work on Ant-Man works out, this development makes a lot of sense. A Marvel home run could make The Boys easy in the eyes of another studio. He also said this a few months back, bringing it all together:
I'm starting to get into the early stages with Marvel. I just did a big rewrite on Ant-Man with Paul Rudd and had such a great time working with them that we're kicking around ideas. But yeah, maybe I would take on one of the characters so we haven't locked in anything, but discussions are definitely going on.
Inhumans is currently scheduled for release July 12, 2019. That's a long way away and many things can change before then. But, if Adam McKay is on deck to direct a Marvel movie, it seems like the next, best bet.
What do you think?