'Tomorrowland' To Sneak At Disneyland And Walt Disney World; Plus See New Footage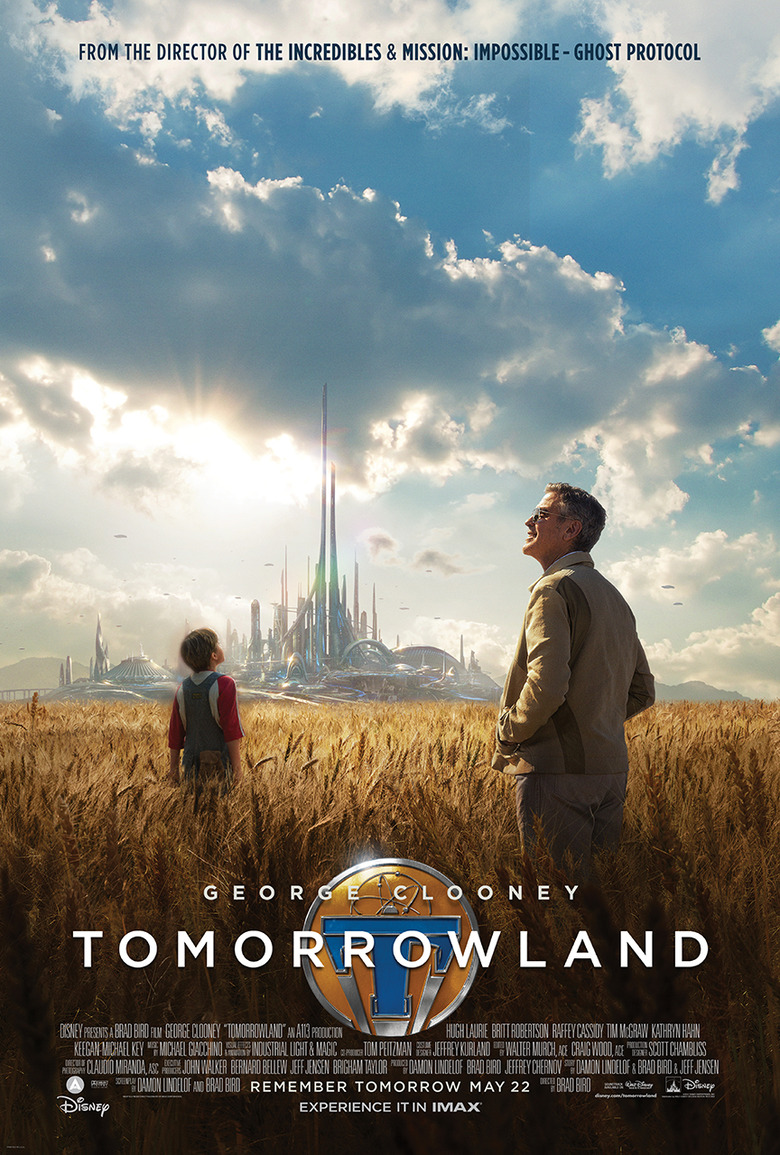 If you find yourself in Tomorrowland before the release of Tomorrowland, you can soon catch a glimpse of Tomorrowland.
Walt Disney Parks have announced that they'll present sneak previews of Brad Bird's film Tomorrowland starting in mid-April. At California's Disneyland, the sneak will be in actual Tomorrowland theme park and in Florida, it'll be at Epcot Center. Below, read more details on the Tomorrowland preview and see some new footage from the movie in a commercial linking the film and the NBA. 
Inside the Magic broke the news of the Tomorrowland preview. It's pretty much to be expected as the connection is a slam dunk. It's a Disney film set in a world where Disney parks exist, named after a specific area in almost every Disney park. Seeing footage from the movie, in the actual parks, should be pretty exciting. Normally these previews run about 10-15 minutes, meaning it'll be the most of the movie you can see until it opens.
In Florida, the Tomorrowland preview will take place at the Imagination Pavilion theater at Epcot Center, complete with in-theater effects. At Disneyland in California, it'll be in the Tomorrowland theater and will also have an exhibit of props and art work from the movie itself.
There's a more specific connection between the movie and parks too. To read more details on the spoilery connection, click this link. A foreign version of the trailer was mistakenly released a few weeks ago which contained this spoiler, but was then quickly taken down by Disney. In reality, while the trailer did contain this and a few other spoilers, it works in making you even more excited for the film.
Speaking of getting more excited for the film, an NBA Tomorrowland commercial recently came online with a few new shots. Watch it here:
Tomorrowland opens May 22. Directed by Brad Bird, co-written by Damon Lindelof and starring Britt Robertson, George Clooney and Hugh Laurie, here's the official plot description:
From Disney comes two-time Oscar winner Brad Bird's "Tomorrowland," a riveting mystery adventure starring Academy Award winner George Clooney. Bound by a shared destiny, former boy-genius Frank (Clooney), jaded by disillusionment, and Casey (Britt Robertson), a bright, optimistic teen bursting with scientific curiosity, embark on a danger-filled mission to unearth the secrets of an enigmatic place somewhere in time and space known only as "Tomorrowland." What they must do there changes the world—and them—forever.
Featuring a screenplay by "Lost" writer and co-creator Damon Lindelof and Brad Bird, from a story by Lindelof & Bird & Jeff Jensen, "Tomorrowland" promises to take audiences on a thrill ride of nonstop adventures through new dimensions that have only been dreamed of.
The film also stars Hugh Laurie as brilliant scientist David Nix, Raffey Cassidy, Tim McGraw, Kathryn Hahn, Keegan-Michael Key and Thomas Robinson.
"Tomorrowland" is produced by Damon Lindelof, Brad Bird and Jeffrey Chernov and directed by Brad Bird, with John Walker, Bernard Bellew, Jeff Jensen and Brigham Taylor serving as executive producers. "Tomorrowland" opens in U.S. theaters on May 22, 2015.