'Alien Nation' Remake In The Works At Fox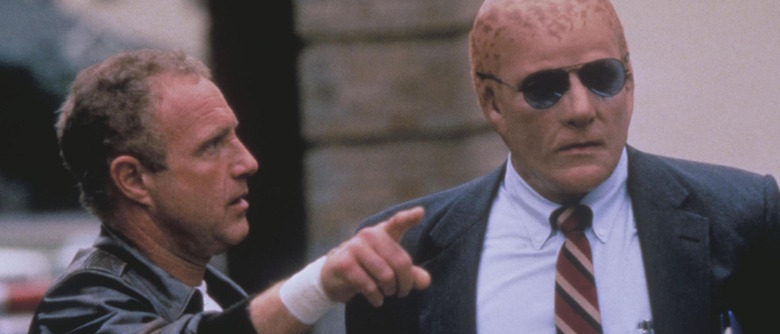 Add Alien Nation to the long, long list of '80s properties slated for a modern makeover. 20th Century Fox is developing a remake of the 1988 sci-fi film, with a new script by Iron Man writers Art Marcum and Matt Holloway. More details on the Alien Nation remake after the jump. 
THR reported the news. No director, stars, or producers are on board at this time.
The original film took place in the not-so-distant year of 1991. Aliens have arrived in Los Angeles and are co-existing, uneasily, with humans. The so-called Newcomers are kept separate from the human population, and regarded with suspicion for their strange habits. (Think District 9.)
Mandy Patinkin played Francisco, the first-ever alien cop, who is partnered with veteran human officer Sykes (played by James Caan). Initially, Sykes is prejudiced against his Newcomer colleague, but the two overcome their differences as they work together on a case.Alien Nation did well enough at the box office to get a TV spinoff. The series lasted just one season, but the franchise continued through the '90s with several TV films. Several books and comic books based on the property were also released.
A few years back Syfy attempted to revive Alien Nation for television, but their plans didn't get very far.
The upcoming remake will start at the beginning, revealing how and why the aliens came to Earth. Fox reportedly hopes for a reimagining along the lines of their current Planet of the Apes series.
Coming Soon points out that Planet of the Apes and Alien Nation actually crossed over at one point in comic book form, but we'll have to wait and see if Fox has any plans to go that route with the cinematic reboots. (Probably not, unless they get really desperate.)
Besides Iron Man, Marcum and Holloway's credits include Punisher: War Zone and the upcoming Highlander reboot. They also worked on early drafts of Teenage Mutant Ninja Turtles, which finally hit theaters last year.