'X-Men: Apocalypse' Casts Lana Condor As Jubilee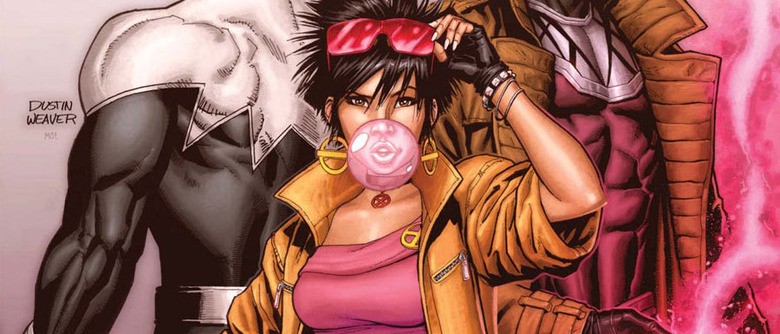 As if the cast of X-Men: Apocalypse weren't big enough already, one more fan favorite will be on hand to throw some sparks. Director Bryan Singer announced today that Lana Condor has signed on in the role of Jubliation Lee, a.k.a. Jubilee. More on the X-Men Apocalypse Jubilee casting after the jump. 
Singer shared the happy news on Instagram.
I'd officially like to welcome our newest mutant #JubilationLee, #Jubilee @LanaCondor to #XMEN #Apocalypse
A photo posted by Bryan Singer (@bryanjaysinger) on
Several of the new X-Men cast members are what you might call "up-and-comers," as opposed to established A-list stars. But Condor is the up-and-comer-iest of them all. She has literally no IMDb credits to her name. Which is neither here nor there — everyone needs to start somewhere, and Condor was just lucky enough to land such a high-profile pic as her debut — but makes it hard to guess if she's a good fit.
The character of Jubilee appeared in all three of the original trilogy films. She was played by Katrina Florence in the first X-Men, and then by Kea Wong in X2 and X-Men: First Class. She was never a major character in the film series, however, so Condor should have plenty of room to make Jubilee her own.
Oddly, Jubilee was portrayed as being roughly the same age as Rogue, Iceman, and Pyro in the earlier films, but Condor's casting suggests the character will now be a contemporary of Jean Grey, Cyclops, Storm, and Nightcrawler. Then again, X-Men: Days of Future Past wiped the whole timeline clean and essentially rendered all of those original trilogy films null and void, so I guess they can do whatever they want in Apocalypse.
X-Men: Apocalypse features the returns of James McAvoy, Michael Fassbender, Jennifer Lawrence, Nicholas Hoult, Rose Byrne, and Evan Peters. Joining for the first time in this installment are Sophie Turner as Jean Grey, Tye Sheridan as Cyclops, Alexandra Shipp as Storm, Kodi Smit-McPhee as Nightcrawler, and Ben Hardy as who-the-hell-knows. Oscar Isaac will play the big bad villain, Apocalypse.
The film opens May 27, 2016.