Star Wars Bits: 'The Force Awakens' Opening, New Toy Details And Felicity Jones Rogue One Quotes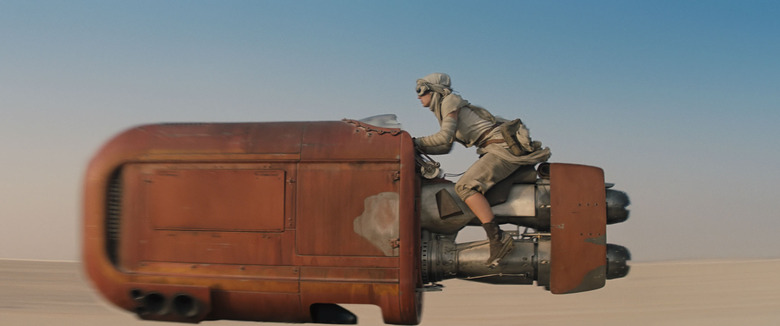 Lots of good Force Awakens teasing, and then some flat out spoilers, bookend this edition of Star Wars Bits. Below, read about the following:
Felicity Jones has officially begun non-talking about Star Wars: Rogue One.
See some new authentic Star Wars: The Force Awakens crew apparel.
Prices for some new Force Awakens toys have made it online.
Help build a Cloud City Diorama at Star Wars Celebration.
EA dropped a short tease of Star Wars Battlefront on their Twitter.
Simon Pegg offers more details on his Force Awakens set visit.
Read a detailed description of the first 30 set ups in Star Wars: The Force Awakens.
Speaking with the Associated Press, Felicity Jones officially began her 20 months of acknowledging she's in Star Wars: Rogue One, but saying nothing about it: "I can't talk about it. It's really, really exciting but I can't talk about it."
Making Star Wars got some images sent to them of Star Wars: The Force Awakens apparel given to people in the effects department. It's pretty awesome stuff. Here's one of the images: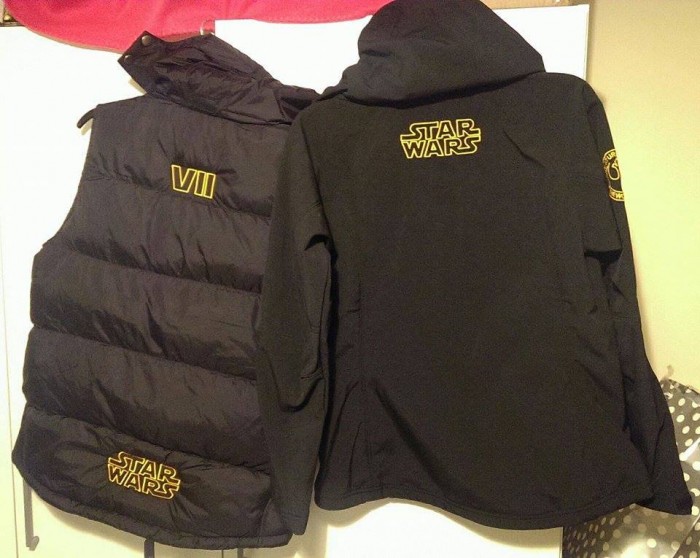 This is unconfirmed, but MSW again found a huge listing of prices for Star Wars: The Force Awakens toys that will go on sale at Target in September. If you're into that kind of stuff.
JediNews found this video, which is the synopsis of the new novel Star Wars: Aftermath in the form of an opening crawl. Pretty cool.
Toy designer Jamie Follis alerted us to his custom action figure panel at Star Wars Celebration as well as a super cool event where kids can help build pieces of a massive diorama of Cloud City. Read more here.
Check out this short Star Wars: Battlefront teaser via the official EAStarWars Twitter:
Well, that speeder isn't going anywhere. Can someone give us a lift to @SW_Celebration http://t.co/srEVrAA0zl #SWCAhttps://t.co/4W4LG8myke

— EA Star Wars (@EAStarWars) March 25, 2015
Speaking to Collider, Simon Pegg talked more about his set visit to Star Wars: The Force Awakens. Here's a little snippet:
I took my daughter to the set, and she met BB-8, the droid you see in the trailer. She sat with him for ages, and just talked to him. The guys were operating it, just off camera, and she was there. I said, "Come on, we've gotta go," and she said, "I just want to spend some more time with him and have another hug." It's just a ball with a thing on it, but it's a testament to that character, how much he's going to impact on audiences because he's so full of life. And that goes across, for everything. Also, to see the old staples again is going to blow people's minds.
Whether this is true or not, we can't say for sure. But Making Star Wars has a pretty convincing breakdown of the first thirty or so set ups in Star Wars: The Force Awakens. If true, this gives you a pretty good idea of the first 10-15 minutes of the film. Obviously, lots of potential spoilers.