Weta Used Old 'Fast & Furious' Footage To Complete Paul Walker 'Furious 7' Scenes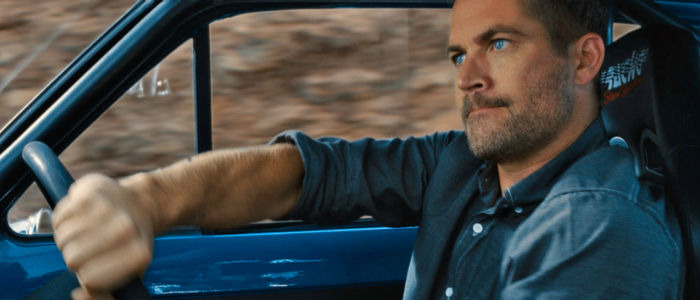 Furious 7 is a little over a week away and fans of the franchise are going to flip. The action is bigger, the emotion is deeper, and the way the franchise pays tribute to the tragedy of Paul Walker's death is incredible. No spoilers, but watching the film, I cried more than I've cried in a movie in years. It's a truly beautiful send-off that was put together using many different techniques. We've already reported that Walker's brothers Cody and Caleb were on set to help out. But producers also used unused footage from previous movies to complete some key shots.
Again, we won't spoil any of the specifics but Weta Digital was reportedly employed to complete a process that used old footage digitally composted onto new shots. Director James Wan wouldn't confirm that to us, but a new report does. Below, read his quotes about the Paul Walker Furious 7 magic and more.
First up, Fast and Furious producer Neal Moritz said this in the press notes for Furious 7:
Then it came to how could we actually finish Furious 7. We had shot most of the movie with Paul, but we wondered how we were actually going to make this work. I have to say, he was looking down on us. Because of unused footage that we had from previous movies and the use of new technology, we were able to complete the film inspired by Paul's spirit and give him and his best-known character a perfect cinematic send-off. This movie is a testament to his legacy.
We spoke to director James Wan about this and he said the following:
I'm not gonna say specifically what was what, because I think it's very important that people go into this movie not fixated on trying to work out which is Paul, which isn't Paul. I want them to just watch the movie and enjoy the film and be caught up in the emotion of it all. We worked so hard so that they don't have to do that.
And so I think that's very important and I don't wanna kind of fuel that fire so to speak. Maybe years from now, I'll talk about it or maybe at a later day on the track. But needless to say, yes, I wanted to use as much of real Paul as I could.
And if that meant stealing a look from the previous movies or whatever, that was the way to do it. I think it's just from a sentimental point of view, I think it wanted to be that.
Which leads up to The Hollywood Reporter, which says that Peter Jackson's Weta Digital took the unused footage from other movies to perform a similar technique that was used for Oliver Reed in Gladiator and Nancy Marchand in The Sopranos.
Having seen the movie, let me just say, I think they are mostly talking about one memorable shot. Some scenes in the movie are pretty obviously digital but one isn't. And I'm frankly stunned. It looked absolutely incredible and crushed me emotionally in the best possible way.
We'll have more on Furious 7, including our full interview with Wan, soon.