'Maggie' Trailer: Arnold Schwarzenegger Loves His Zombie Daughter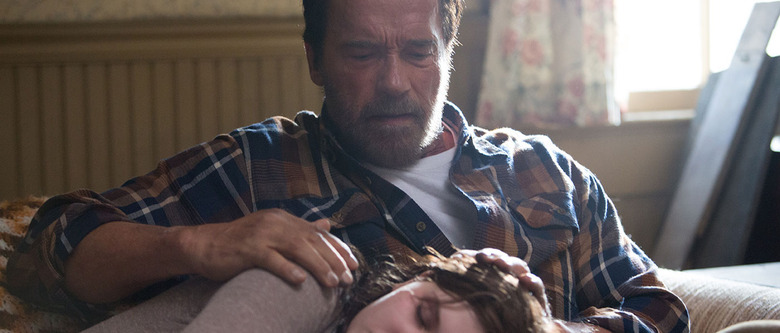 That Arnold Schwarzenegger would star in a zombie movie isn't surprising. What makes Maggie unexpected is that it's less a no-holds-barred action thrill ride than an intimate family drama.
Schwarzenegger plays Wade, whose world is turned inside out when a spreading zombie virus infects his beloved daughter Maggie (Abigail Breslin). Wade remains determined to stay by her side and protect her, even as her condition worsens. Watch the Maggie trailer after the jump.
Directed by Henry Hobson, Maggie also stars Joely Richardson and Laura Cayouette.
There's still a bit of gun-toting and ass-kicking, but by and large this looks like a much quieter, more introspective Arnie than we're used to seeing. Maggie also seems to put a fresh spin on the zombie genre, spotlighting the personal drama of the situation rather than the gore and violence.
Maggie has been in development for a few years now, with the script by John Scott 3 originally making the Black List in 2011. The film was finally slated to debut at the Toronto International Film Festival last fall. However, it got pulled at the last minute when Lionsgate swooped in to pick it up.
The studio insisted it wasn't over concerns about quality. "Maggie has all the ingredients that spell commercial excitement, from a compelling script and an A-list superstar surrounded by a world-class cast," they said in a statement.
Instead, it's now making its world premiere at the Tribeca Film Festival next month, just a few weeks ahead of its limited theatrical rollout starting May 8.
There's a deadly zombie epidemic threatening humanity, but Wade (Arnold Schwarzenegger), a small-town farmer and family man, refuses to accept defeat even when his daughter Maggie (Abigail Breslin) becomes infected. As Maggie's condition worsens and the authorities seek to eradicate those with the virus, Wade is pushed to the limits in an effort to protect her. Joely Richardson co-stars in this post-apocalyptic thriller.