Paramount Making 'Substitute Teacher' Movie Based On 'Key & Peele' Sketch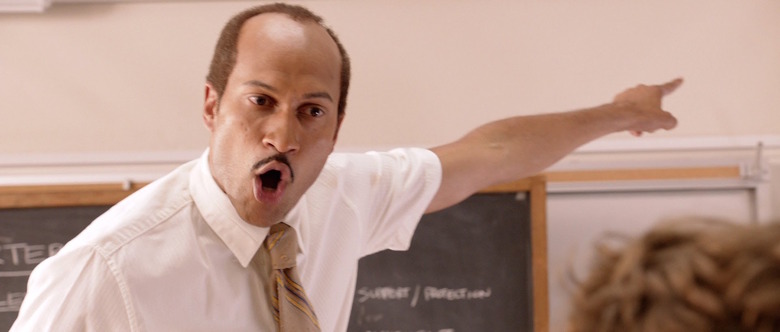 Key and Peele are bringing their act to the big screen. Paramount Pictures has picked up Substitute Teacher, based on a sketch from the duo's popular Comedy Central sketch show.Keegan-Michael Key will reprise his role as Mr. Garvey, an inner city teacher who thinks his white, middle-class students are messing with him. Get all the latest details on the Substitute Teacher movie after the jump. 
We first got wind of a possible Substitute Teacher movie last year, when it was revealed that Key and partner Jordan Peele were in negotiations with Paramount. At the time we wondered how a brief sketch could be expanded into a full-length feature. Today we have new details to shed some light on that front.
Deadline reports the Substitute Teacher movie will pit Mr. Garvey against a rival teacher played by Peele. In contrast to Mr. Garvey, who distrusts his kids, the other teacher is determined to win them over. Unlike Key, Peele does not play a recurring character in the Substitute Teacher sketches.Key and Peele co-producers Rich Talarico and Alex Rubens will write the script. Key and Peele will produce along with 21 Laps' Shawn Levy and Dan Levine, plus Principato Young Entertainment's Peter Principato, Paul Young, and Joel Zadak. No director or other stars have been announced.
Although Key and Peele remain best known for their TV show, they've been looking to make a leap to the movies. Also in the works from them are Keanu (a caper about a stolen cat, not a biopic of the beloved actor), an untitled Judd Apatow project at Universal, and the long-gestating Police Academy reboot. Separately, Peele is developing the horror film Get Out.
Although there have been several iterations of Substitute Teacher at this point, the first one remains the most popular, with 72 million views on YouTube to date. You can add to that count by hitting play below. Key and Peele enters its fifth season this year on Comedy Central.