WTF: 'Mortdecai' Gets PG-13 Home Video Release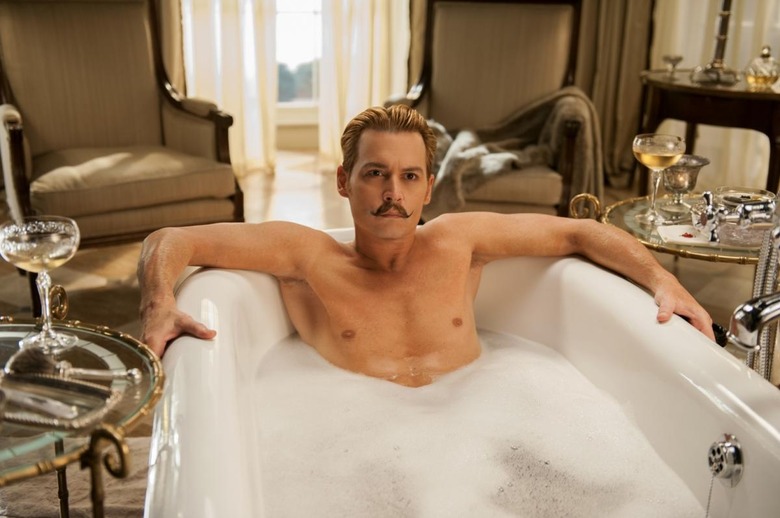 It's not uncommon for R-rated movies to put out an "unrated" (and therefore sexier and/or bloodier) cut for the home video market. But Mortdecai, unconventional rogue that he is, is going the other direction.
Lionsgate is releasing a PG-13 version of the Johnny Depp flop through Digital HD. You know, to reach all those ninth graders who were dying to see a 52-year-old actor play a character from the 1970s. More on the Mortdecai PG-13 release after the jump. 
Forbes reports Mortdecai will be available in a few different forms this spring. The theatrical R-rated edit will arrive on DVD and Blu-ray on May 12, while the R-rated and PG-13 versions will be available on Digital HD starting May 5.
For those keeping track, the original version was rated R for "some language and sexual material," while the new version is rated PG-13 for "sexuality including references and innuendo, action/violence and brief strong language."
The studio makes their reasoning clear in the press release: "And now, even more comedy lovers can experience the hilarity with the uproarious PG-13 cut of the film, Mortdecai PG-13, available exclusively on Digital HD and On Demand."
To be fair, the "even more comedy lovers" category also includes adults who prefer their comedy less graphic or less raunchy. Even so, it's hard to see how neutering the jokes will improve the film.
Mortdecai performed dismally at the box office earlier this year. It grossed $7 million in the U.S. and $23 million overseas — meaning its box office take was barely half of its production budget.
And of the few people who saw it, even fewer actually enjoyed it. Mortdecai got a C+ on CinemaScore, a 13% on Rotten Tomatoes rating, and a 27 on Metacritic. Given all those numbers, it's understandable that Lionsgate is eager to make back what little money they can.
In a weird way, it may even make sense to aim Mortdecai at a younger audience. One of the most frequently lobbed criticisms was that the humor was too juvenile. Maybe those not sophisticated enough to enjoy Ted or Neighbors will be less discerning.