'Boychoir' Trailer: Dustin Hoffman Trains Kid Singers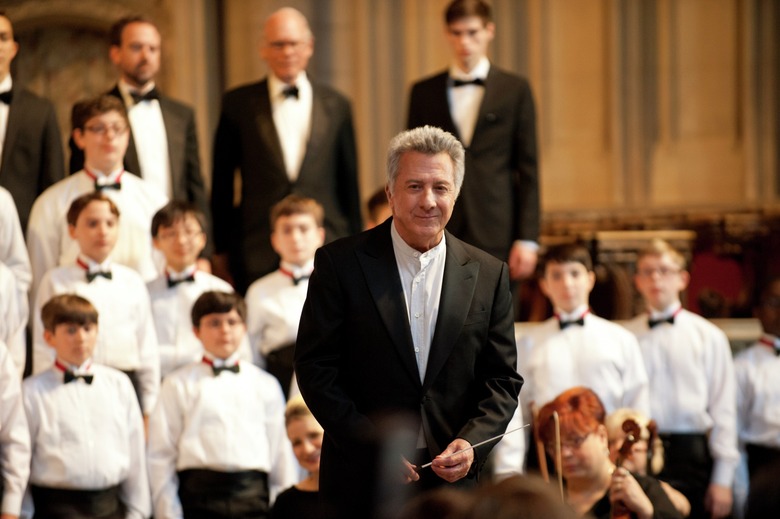 Love tales of talented young musicians and cranky old teachers, but found Whiplash a bit too intense for your liking? You might be the right audience for Boychoir, an upcoming indie drama starring Dustin Hoffman as a choir master who finds a promising preteen talent in Garrett Wareing.
Hoffman snaps things like "How dare you squander your talent?" but stops somewhere short of throwing heavy equipment at the kid's head. And the kid gives as good as he gets, shooting back stuff like "Your clock is ticking too, old man." Watch the Boychoir trailer after the jump. 
Wareing plays Stet (as in Stetson), an 11-year-old Texan who's sent to "the premier boy choir school in the nation" after the death of his single mother. He immediately fails to fit in – he's a poor kid with behavioral issues, in a fancy school full of fancy people — but his vocal talents capture the attention of the sour Carvelle (Hoffman).
Boychoir frankly doesn't look like anything special, but a few festival reviews have noted that it sounds like something special. "The best thing to do is sit back and enjoy the heavenly music," wrote THR. "The best reason to see Boychoir is the chance to hear Boychoir," added RogerEbert.com.
Directed by François Girard, Boychoir gets a limited release starting April 3. Rounding out the cast are Josh Lucas as Stet's absentee father, Debra Winger as Stet's teacher, Kathy Bates as the headmistress, Kevin McHale (of Glee fame) as a professor, Joe West as Stet's young rival, and Eddie Izzard as Carvelle's snooty assistant.
A rebellious preteen (Garrett Wareing) with a remarkable gift is challenged by a demanding vocal teacher (Dustin Hoffman) at one of the most prestigious music academies in the country as they prepare for the National Championship. Also starring Kathy Bates, Kevin McHale, Eddie Izzard, Debra Winger, River Alexander and Josh Lucas.