Chris Columbus To Adapt Acclaimed Comic Book 'I Kill Giants'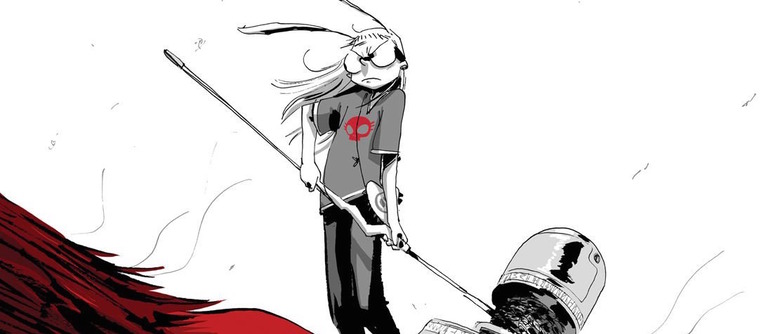 Chris Columbus is preparing to slay some monsters. Or rather, he's preparing to help a fictional character to do so. He's set to produce I Kill Giants, based on the acclaimed graphic novel by Joe Kelly and J.M. Niimura. Oscar winner Anders Walter is directing, and Treehouse Pictures will finance. Read all about the I Kill Giants movie after the jump. 
Originally published as a limited series between 2008 and 2009, I Kill Giants centers around a young outsider named Barbara Thorson. Her inability to fit in makes her life difficult, and she copes by escaping into a fantasy in which giants are real and it's her job to stop them.
I Kill Giants won a string of accolades including the Gold Award at the 5th International Manga Awards and second place at the 2013 Gaiman Awards. Additionally, it made several best-of lists and was named one of the ten graphic novels for teens by the Young Adult Library Services Association.
Walter is known for his 2013 film Helium, which won Best Live-Action Short at the 2014 Academy Awards. Treehouse's Justin Nappi, who is also working with Columbus on the upcoming Mediterranea, said of Walter:
[Columbus and I] both feel strongly that strongly that Anders has the depth and vision needed to bring the amazing story and characters of I Kill Giants to life. As exemplified by his work in Helium and [earlier short] 9 Meter, Anders has a unique understanding of children and their uncanny ability to face life's most difficult challenges.
Kelly will write the script as well as produce. He is part of the Man of Action Entertainment writers collective that also includes Duncan Rouleau, Joe Casey, Joe Kelly, and Steven T. Seagle. The group specializes in comic books and animated shows. Their notable works are Ben 10, Generator Rex, and Big Hero 6.
Although I Kill Giants does not yet have a release date, the filmmakers are getting the pieces together fast. Casting has already begun, and shooting is slated to start this year.