'Game Of Thrones' Will Spoil George R.R. Martin's Books, Showrunners Confirm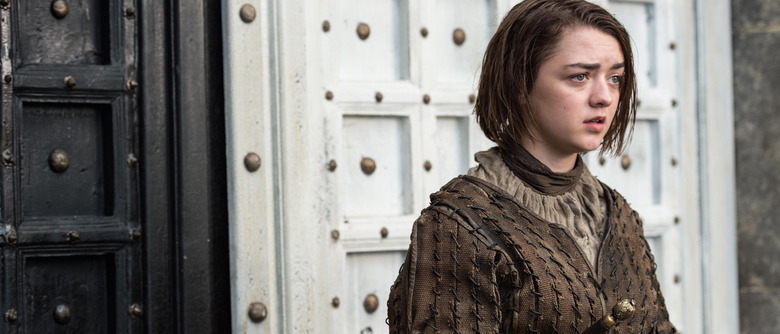 For a while now it's been clear that HBO's Game of Thrones series could outpace George R.R. Martin's A Song of Ice and Fire books. Now showrunners David Benioff and D.B. Weiss have finally admitted that it will. In other words, instead of the books spoiling the show, the show will soon start spoiling the books.
It's an outcome both sides had hoped to avoid, but with Book 6 (The Winds of Winter) nowhere in sight, they've run out of options. "The show must go on," said Benioff. Read more about Game of Thrones spoiling books after the jump. 
The showrunners confirmed their plans during a recent appearance at the Oxford Union (via Moviefone). Asked about the possibility of the show moving ahead of the books, Benioff responded:
Luckily, we've been talking about this with George for a long time, ever since we saw this could happen, and we know where things are heading. So we'll eventually basically meet up at pretty much the same place where George is going [in Book 7, A Dream of Spring]. There might be a few deviations along the route, but we're heading towards the same destination. I kind of wish there were some things we didn't have to spoil in terms of the books, but we're stuck between a rock and a hard place. So the show must go on.
Benioff and Weiss confirmed last year that Martin had already revealed the ending of the show to them, but even at the time Martin said he was "hopeful that [he] can not let [the show] catch up." And while HBO has said they'd "love the show to go 10 years," they ultimately plan to defer to the showrunners – who envision the show ending after about Season 7.
That leaves the showrunners without much choice when it comes to spoiling the books. The upcoming fifth season will cover Books 4 and 5 (A Feast for Crows and A Dance With Dragons), which take place concurrently, so they'll likely push into Book 6 territory in Season 6. Meanwhile, the only thing we know about the timing of Book 6 is that it's very unlikely to land this year. And even if it does, it's all but impossible for Martin to deliver Book 7 ahead of Season 7.
For his part, Martin is trying his best to finish Book 6. He's even gone as far as cancelling his trip to San Diego Comic-Con so he can concentrate on writing. But as Benioff points out, rushing Martin isn't a good solution either:
[A]t the same time, George has his process. And if it takes him 20 years to finish the series, that's what it should take him. He's writing, to my mind, the great fantasy epic of our time. So we can't rush him and I wouldn't want to rush him. [But] at the same time, we can't put the show on hiatus.
Besides, Benioff believes readers will still find plenty to enjoy in Books 6 and 7, even if they've already been "spoiled" by the show.
I think the thing that's kind of fun for George is the idea that he can still have surprises for people even once they've watched the show through to the conclusion. There are certain things that are going to happen in the books that are different from the show, and I think people who love the show and want more — want to know more about the characters, want to know more about the different characters who might not have made the cut for the show — will be able to turn to the books.
The book and show storylines have already started to diverge, and seem poised to keep going down different paths even if they eventually wind up in the same place. Personally, as one of those book-reading know-it-alls, I think it might be kind of fun to push into Season 6 with no clear idea of where things are headed. Are you glad Game of Thrones is pushing ahead of A Song of Ice and Fire, or disappointed the show will "spoil" the books.