'The Crow' Sets Jack Huston As Lead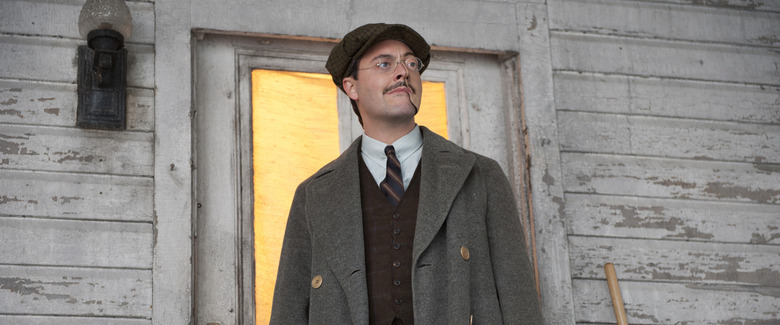 It's been a tumultuous several years for The Crow remake, but now, at long last, it may be getting back on track. Jack Huston has just closed his deal to play Eric Draven, a few months after previous star Luke Evans dropped out.
And since every Eric needs his Shelly, Jessica Brown Findlay is reportedly being considered to play Eric's lady love. Corin Hardy is still attached to direct. More about The Crow Jack Huston casting after the jump. 
Deadline confirms today that Huston is set for The Crow, after entering talks for the part last month. The Crow will be the second remake in a row for Huston, as he's currently filming the Ben-Hur remake directed by Timur Bekmambetov.
The news about Findlay came earlier this month from James O'Barr, who wrote the original The Crow comic and is actively involved with the new movie as a creative consultant. She doesn't seem to be locked in just yet, but according to O'Barr she's his top choice and her casting "is pretty much a sure thing."
The Crow remake / reboot / re-adaptation / whatever you want to call it is envisioned as a more faithful adaptation of O'Barr's comics. The story centers on Eric, who along with his fiancée Shelly is assaulted and left for dead. Unfortunately for his murderers, he comes back from the dead hell-bent on revenge.
The latest draft of the screenplay is being written by Claire Wilson. Edward R. Pressman, who produced the 1994 film starring Brandon Lee, is back to direct the upcoming remake.
The new The Crow has been in the works for several years already, and has basically become a revolving door of talent. Huston and Hardy came on after a previous iteration with Evans and F. Javier Gutiérrez fell apart. Before them, directors Juan Carlos Fresnadillo and Stephen Norrington and stars James McAvoy and Bradley Cooper were attached at various points.
Huston is currently best known in the U.S. for playing Richard Harrow on HBO's Boardwalk Empire, but seems ready to break into movie stardom. He had a supporting role in American Hustle and will next be seen in the Nicholas Sparks adaptation The Longest Ride and the zombie mashup Pride and Prejudice and Zombies.
Findlay is most famous for playing Lady Sybil in Downton Abbey. Her feature credits include Winter's Tale and The Riot Club. Later this year she will appear in Victor Frankenstein with James McAvoy and Daniel Radcliffe.