'Hannibal' Season 3 Features Directors Vincenzo Natali And Neil Marshall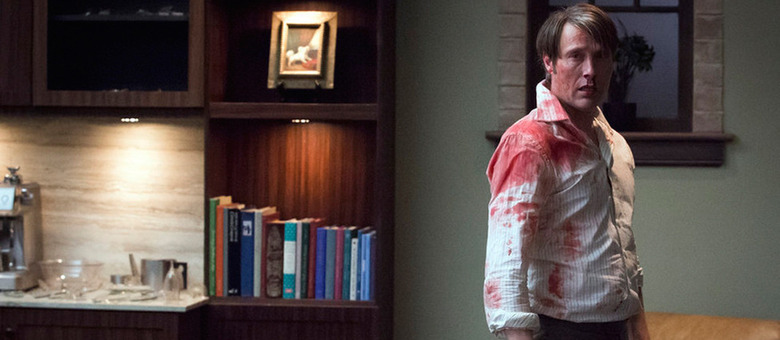 Hannibal Season 3 begins on June 4, and now series creator Bryan Fuller is offering up some details on the new batch of episodes. First up, he has revealed a couple of the directors for this season. One is returning helmer Vincenzo Natali, who directs the first three episodes of Season 3. Another is Neil Marshall, known for his own efforts on Game of Thrones and features like The Descent. He tackled the show's eighth episode, which has a title that fans of the book series and previous films should be very intrigued by.
Fuller tweeted a few details:
THE #HANNIBAL SEASON 3 OPENER TAKES PLACE OVER FOUR DIFFERENT PERIODS OF TIME #HannibalReturnsJune4

— Bryan Fuller (@BryanFuller) March 22, 2015
FIRST 3 EPISODES OF #HANNIBAL S3 "ANTIPASTO" "PRIMAVERA" "SECONDO" DIRECTED BY VINCENZO NATALI #HANNIBALRETURNSJUNE4 pic.twitter.com/2bYScmEBst

— Bryan Fuller (@BryanFuller) March 22, 2015
Those titles also show that the episodes for this season are named for Italian culinary terms, following up on the French and Japanese titles from the previous two seasons. But the pattern will break this season for at least one specific episode. Unless, that is, someone can demonstrate that "The Great Red Dragon" is a term drawn from Italian cuisine.
EP 8 "THE GREAT RED DRAGON" DIRECTOR NEIL MARSHALL MADE THE BEST HORROR MOVIE OF THIS CENTURY #HannibalReturnsJune4 pic.twitter.com/8qAgLGD0Rj

— Bryan Fuller (@BryanFuller) March 22, 2015
In case you've missed some of the previous talk about this new season, Fuller has said the first episode of Season 3 "will essentially function as a new pilot for a new series because everything's different." He also revealed in an interview almost a year ago,
Season 3 is going to be a lot of fun because it's going to be taking a lot of disparate elements from the novel Hannibal Rising and the novel Hannibal and mashing them up together as part of the thrust of the season. It's going to be fun to bastardize two novels into one sort of Frankenstein season. I will brace everybody right now: We're significantly changing the Hannibal origin story from Hannibal Rising. My hope is that not only do we have a completely different Hannibal Lecter story in Season 3, but we will meet some of those great characters like Francis Dolarhyde and  Lady Murasaki and weave them into the world in a unique way.
Now we know that Dolarhyde is definitely showing up, thanks to this tweet:
CONCEPT ILLUSTRATION FOR FRANCIS DOLARHYDE's KIMONO #HannibalReturnsJune4 @RCArmitage pic.twitter.com/tlodZEbLN2

— Bryan Fuller (@BryanFuller) March 22, 2015