Jennifer Lawrence Says She's Leaving 'X-Men' After 'Apocalypse'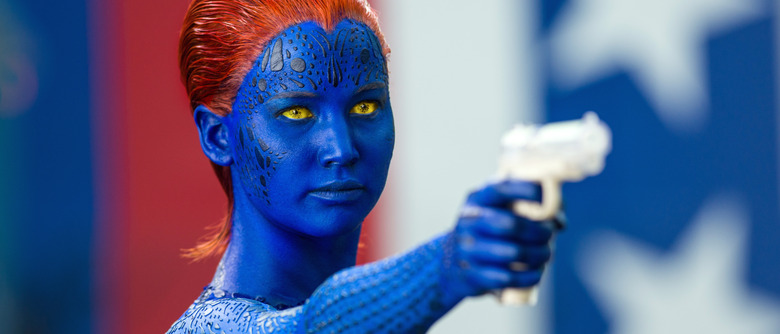 Jennifer Lawrence will be down one major franchise after The Hunger Games: Mockingjay – Part 2 opens later this year, and now it seems she'll be down another after next year. The actress confirmed that 2016's X-Men: Apocalypse will be her last turn as shapeshifting mutant Mystique.
Read the Jennifer Lawrence X-Men comments after the jump. 
Lawrence spilled the news while chatting with MTV. Asked whether Apocalypse might be her last X-Men movie, Lawrence responded in unequivocal terms: "It is my last one, actually. Yes."
The actress did not elaborate on why she'd be leaving the franchise. Along with Nicholas Hoult, James McAvoy, and Michael Fassbender, Lawrence has been a core member of the X-Men cast since 2011's First Class. Producers have publicly floated the idea of doing a Mystique spinoff with her, but she has never actually been confirmed for more X-Men films beyond Apocalypse.
It's possible that Lawrence simply meant she doesn't have any plans to return for now. X-Men: Apocalypse hasn't even begun shooting, so there's still time for her to change her mind. Plus, actors have been known to make noises about leaving as a way to negotiate for more money.
Assuming we can take her comments at face value, though, they're not terribly surprising. Between X-Men and The Hunger Games, she's done more than her share of big studio franchise films. Meanwhile, she's still at the top of the casting wishlist for... well, pretty much any project ever. Leaving X-Men would free her up to pursue other kinds of films.
And X-Men: Apocalypse seems like a natural end for Lawrence's Mystique. Writer Simon Kinberg has previously said he envisions Apocalypse as a way to "complete the trilogy we began with First Class – to complete the stories of young Raven, young Hank, younger Charles and Erik."
At the same time, the film is introducing a bunch of new characters (or rather, if you want to be pedantic about it, new versions of familiar characters) including Cyclops (Tye Sheridan), Jean Grey (Sophie Turner), Storm (Alexandra Shipp), and Nightcrawler (Kodi Smit-McPhee). There's a good chance that Apocalypse will serve as a transition, and that these new stars will serve as the core cast moving forward.
But that's just speculation. For now, Fox has yet to confirm plans for any more X-Men films after Apocalypse. It does, however, have concrete plans to keep the franchise going with Wolverine, Deadpool, and Gambit spinoffs.
X-Men: Apocalypse opens May 27, 2016, with Bryan Singer returning to direct. Will you be sorry to see Lawrence's Mystique go, or are you glad to see her move on to bigger and better things?