See The Making Of Penn Jillette's 'Director's Cut' Through The Clapboard's POV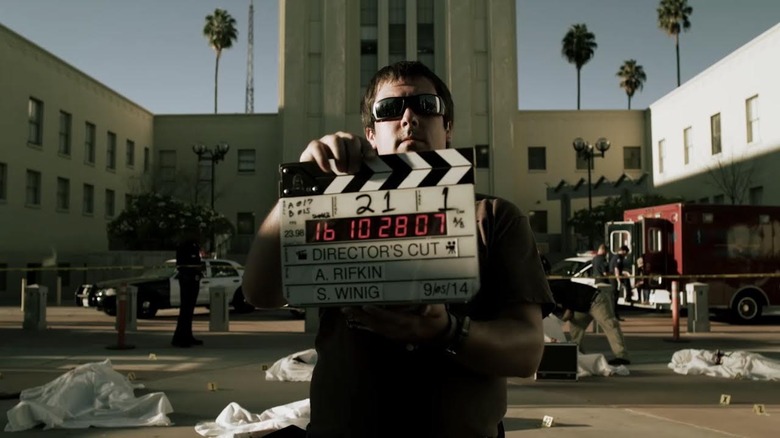 Anyone who has been reading this site for any length of time probably knows that I'm a magic geek and two of my idols are the magic duo of Penn & Teller. Not only do they have a magic career spanning 40 years, but their many television shows and movies are equally impressive. So I'm excited to introduce this exclusive short guest post from Penn Jillette himself, presenting a behind the scenes video from his upcoming film Director's Cut.
The film itself looks really interesting, the kind of story that could only come out of the democratic crowdsourcing process. The supercut-like clip gives you a fast-paced look at the making of the movie, but from the perspective of the clapboard that gets clapped before every single take of the film. Through this perspective, we get to see the film's shooting locations, we even get a glimpse of Penn in costume as well as the other actors/characters in the film. Read Penn's guest blog and watch the Director's Cut clapboard video embedded after the jump.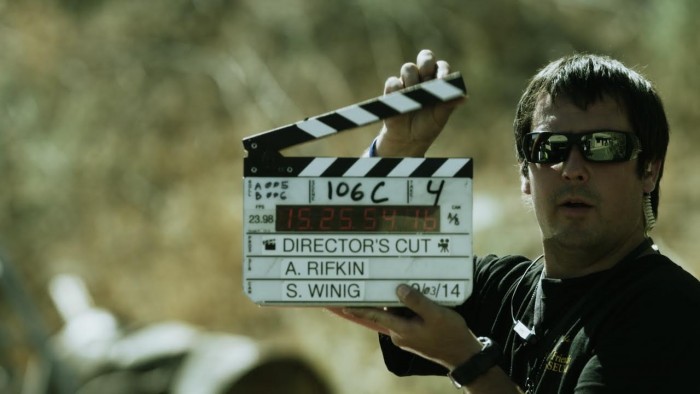 Quinton Anderson Reynolds Star of Slate and Screen in Our Movie, "Director's Cut"
by Penn Jillette
I sat in my room alone and I wrote a movie. I wrote a crazy movie called "Director's Cut," about a crazy guy who steals all the raw footage from a dark cop film, reedits it, and then finally kidnaps the star to reshoot the ending with himself as her co-star. My director, Adam Rifkin, might call it "meta," but I think "crazy" is the most just.
I wrote alone where crazy is easy but to actually make the movie, I needed to suck a few thousand people into my crazy with me. I tried for about a minute to sell this to studios, and they were all for it, providing I change everything. Then I went to crowd-funders and we found over 5 thousand people to put their money where my crazy is. Adam was on board to direct and produce and then Missi Pyle came on as our star. I got the best actor in Hollywood to want to do my impossible movie. We added in other great actors and an amazing crew, and now my weird little thoughts were being recorded in high definition. Wow.
One of my co-conspirators is Quinton Anderson Reynolds and he's the star of this clip we call "The Clap." His mom is Lonnie Anderson and his dad is Burt Reynolds. His parents may be big stars, but neither of them has ever been in every single shot of a movie. Quinton is in every shot of Director's Cut, because he's holding the slate. As I watch Quinton's brilliant work clapping the slate, I relive the whole process. Wow. This is a real movie. No doubt about it. It's got everything, and you see it in these glimpses. I've made movies before, but they've mostly been documentaries, and no matter how crazy docs get, they never go where fiction goes. Even watching just the slates, you can see this is a crazy movie, and watching just the slates you can see that Quinton has quite a future. He pops off the screen.
There's a long way to go to make this a finished movie. We've shot it, but we still have to crowd-fund a little more to lock it, sell it, and promote it. We still need to finish the editing, and that's never going to get done if our editors stay obsessed with Quinton and making little side projects like this.
Thanks to all of you, but especially Quinton, for helping me make solo crazy into crowd real.
DIRECTOR'S CUT is a dark comedy about a crazy person making a movie. The meta film-within-a-film follows actress Missi Pyle, playing herself, and an obsessed fanboy, Herbert Blount (Penn Jillette) who gains access to the set of her new crowd-funded cop movie "Knocked Off" by having purchased a one line role thru the film's crowd-funding website. While on set Blount steals all of the film's footage by highjacking the password to the production's FTP site and then stalks and kidnaps Pyle right out of her trailer. His psychotic goal is to reshoot the film in his dungeon studio, recasting himself as her romantic lead. Pyle must act for her life to survive. The end result is a mad mash-up of scenes from the real movie, outtakes and the absurd footage our delusional psycho Herbert has shot. He's even recorded a Director's Commentary track, which plays throughout the entire film, acting as an insane narrative device... from a very unreliable narrator.
DIRECTOR'S CUT was Written by Penn Jillette, the larger and louder half of the iconic comedy, magic duo Penn & Teller, Directed by Adam Rifkin, (LOOK, Detroit Rock City, The Dark Backward) and stars Missi Pyle (Gone Girl, Galaxy Quest). The film also stars, Harry Hamlin (Mad Men, Shameless, Clash of the Titans), Hayes MacArthur (LOOK, Haunted House 2) and Gilbert Gottfried (Aladdin).