Simon Kinberg Will Turn Ruairi Robinson's 'The Leviathan' Into A Full-Length Feature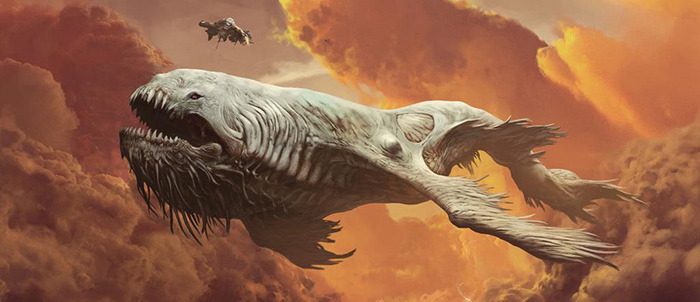 Ruairi Robinson's proof of concept trailer for The Leviathan became an overnight sensation when it hit Vimeo and YouTube last week, and Hollywood has taken notice. A feature film is now in the works with two men who know a thing or two about bringing vast sci-fi universes to life: Simon Kinberg (X-Men) and Neill Blomkamp (Chappie). More on The Leviathan movie after the jump. Deadline reports Kinberg beat out several big-name producers to clinch the deal. He will produce and Blomkamp will executive produce. Kinberg's first-look deal with Fox means there's a good chance The Leviathan will end up there. Even if Fox passes, though, the buzz surrounding the project should help it secure a deal elsewhere.
It's not tough to see why Kinberg and Blomkamp were taken with The Leviathan. The gritty feel and vast scale of The Leviathan proof-of-concept trailer seem to be right up their alley. Inspired in part by Moby Dick, with shades of Dune, the synopsis for The Leviathan reads as follows:
By the early 22nd century mankind had colonized many worlds. Faster than light travel was made possible by harvesting exotic matter from the eggs of the largest species mankind has ever seen. Those that take part in the hunt are mostly involuntary labor.
Robinson previously directed the short films Blinky and The Silent City, as well as the feature film The Last Days on Mars. He was at one point attached to direct the live-action Akira remake. (Needless to say those plans didn't work out, but you can check out the storyboards from back then if you're curious about what his vision might have been.)
Kinberg has been with Fox's X-Men franchise since 2006's The Last Stand, and is also producing Deadpool and Fantastic Four for the studio. He's also tied up with Disney's Star Wars franchise, as a co-creator and executive producer of Star Wars Rebels and the writer of one of the upcoming standalone films. In addition, he produced Blomkamp's Chappie and has Ridley Scott's The Martian coming out soon.
Blomkamp is coming off of the aforementioned Chappie and is now working on the next Alien movie. Chappie wasn't really a win for him, in my humble opinion, but he does have a clear love of sci-fi worldbuilding. As long as he steers clear of screenwriting duties on The Leviathan, his involvement is a good thing.
Watch (or re-watch) The Leviathan proof of concept trailer below: