New 'Terminator: Genisys' Images Feature J.K. Simmons, A Young Sarah Connor, And More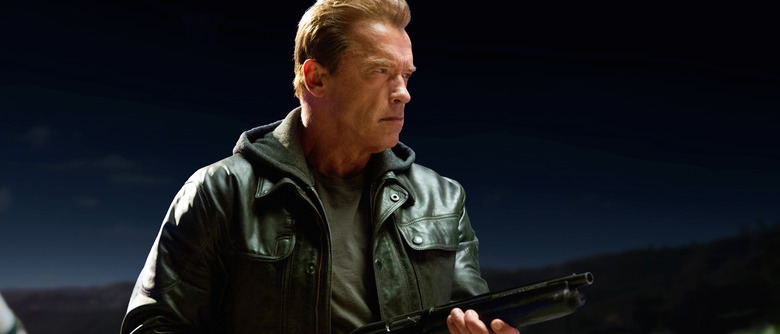 Terminator: Genisys promises to tie the Terminator timeline in knots, but from our reality the film's progression is perfectly linear. The Paramount marketing team has dropped cast photos, a poster, a trailer, and a Super Bowl spot; today, we have some more Terminator Genisys images to look at while we count down the days until the film's summer release.
Check out the latest pics featuring Emilia Clarke, Arnold Schwarzenegger, J.K. Simmons and more after the jump. 
Empire (via Coming Soon) debuted the new Terminator Genisys images and magazine cover.
While we wait for the next Terminator: Genisys trailer, the new Terminator Genisys images give us a lot to look at. We have our first peek at Simmons in character as O'Brien, previously described as "a weary and alcoholic detective who has followed a bizarre case involving Sarah Connor and robots for more than three decades (since 1984, which, not coincidentally, is the year the original movie, directed by James Cameron, was released)." Here, he's gawking at what looks like an older T-800.
There's also a glimpse of the young Sarah Connor, looking traumatized but safe in the care of a younger T-800. There's a T-800 endoskeleton driving a big car. And of course, there are pictures of Clarke as the grown-up version of Sarah Connor, and Schwarzenegger as the graying T-800.
Terminator: Genisys opens July 1. Alan Taylor is directing and Jason Clarke, Jai Courtney, and Matt Smith also star.
When John Connor (Jason Clarke), leader of the human resistance, sends Sgt. Kyle Reese (Jai Courtney) back to 1984 to protect Sarah Connor (Emilia Clarke) and safeguard the future, an unexpected turn of events creates a fractured timeline. Now, Sgt. Reese finds himself in a new and unfamiliar version of the past, where he is faced with unlikely allies, including the Guardian (Arnold Schwarzenegger), dangerous new enemies, and an unexpected new mission: To reset the future...