'Mission: Impossible Rogue Nation' Trailer: "The IMF Is An Agency Of Chaos"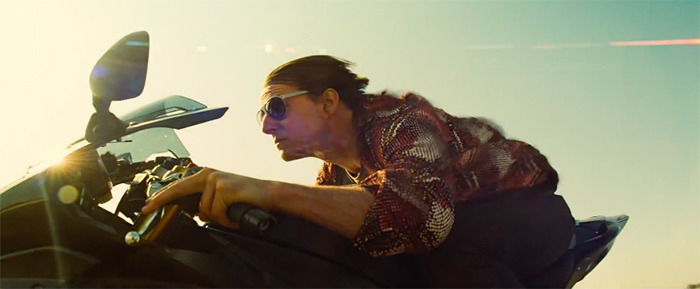 The veil was finally lifted from Mission: Impossible 5 over the weekend as a poster, teaser trailer and the film's actual title were revealed. In unusual fashion, those elements all dropped barely 24 hours before the arrival of the film's full trailer — moving up the release date from Christmas to July has really changed the marketing plan for this new film.
And so here's the full Mission: Impossible Rogue Nation trailer, which previews even more of Cruise's insane airplane stunt, and also sets up the hunt for the Syndicate, a giant anti-IMF organization. Tickets for the film are even on sale now, and Paramount is offering a deal where a ticket purchase this week comes with an HD download of any previous film in the series.
Mission Impossible Rogue Nation Trailer
So the first teaser was basically a cut down version of this trailer, and even with twice the footage seen in that teaser it's still difficult to tell what's going on in the plot beyond the basic concept of a hunt of the Syndicate. And that's great — we don't need to know. It's enough to see hints of the film's action and the good-looking actors... and is it me, or does this look like it is taking a few cues from the marketing of the Fast & Furious movies?
There's also this press release from Paramount, which gives details on the ticket sales and complimentary HD download offer that is open through March 27.
HOLLYWOOD, CA (March 23, 2015) – Paramount Pictures today announced that tickets for the first showings of the highly anticipated film "MISSION: IMPOSSIBLE – ROGUE NATION" are unlocked with today's trailer debut and on sale now – four months before the film's theatrical release.The advance tickets are available for Thursday, July 30th showings at 7:00 p.m. in IMAX® and premium large format theaters and 8:00 p.m. at additional participating locations nationwide. The tickets are available online at Fandango, Movietickets.com and participating theater box offices.Starting tomorrow, Tuesday, March 24th through Friday, March 27th, fans purchasing advance tickets at Fandango and Movietickets.com will receive a code for a free HD digital copy of any previous installment in the blockbuster "MISSION: IMPOSSIBLE" franchise. For more information and to purchase tickets, visit www.MissionImpossible.comMission: Impossible Rogue Nation opens July 31. Trailer via YouTube.