See The Set Of Ridley Scott's 'The Martian' Thanks To Matt Damon's Super Bowl Bet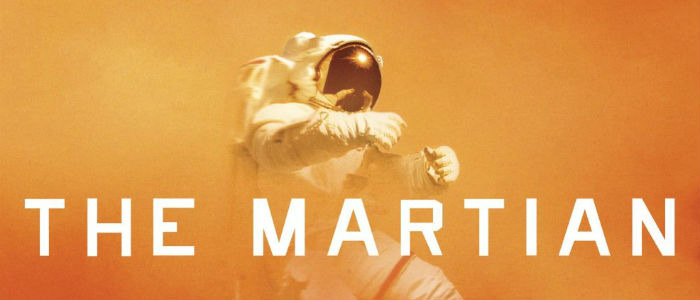 The New England Patriots winning the Super Bowl might have been painful for some football fans, but it's been a blessing for movie fans. As a result of friendly bets made about the game, we've seen some very cool stuff. The most obvious examples are the touching photos of Marvel-men Chris Pratt and Chris Evans, in costume, visiting children's hospitals. Now, another photo has surfaced via a Super Bowl bet that reveals our first look at one of 2015's most anticipated films.
That film is Ridley Scott's The Martian, an adaptation of the Andy Weir novel. Matt Damon stars as Mark Watney, an astronaut mistakenly left alone on Mars. He then struggles to survive as Earth struggles to get him back. Damon made a Super Bowl bet with his assistant and since the Patriots won, the assistant has to wear a Patriots shirt all over the world. The first photo was taken in Jordan, in the desert, on the set of The Martian. See The Martian movie set image below.
Thanks to author Andy Weir's Facebook, via Collider, for the heads up.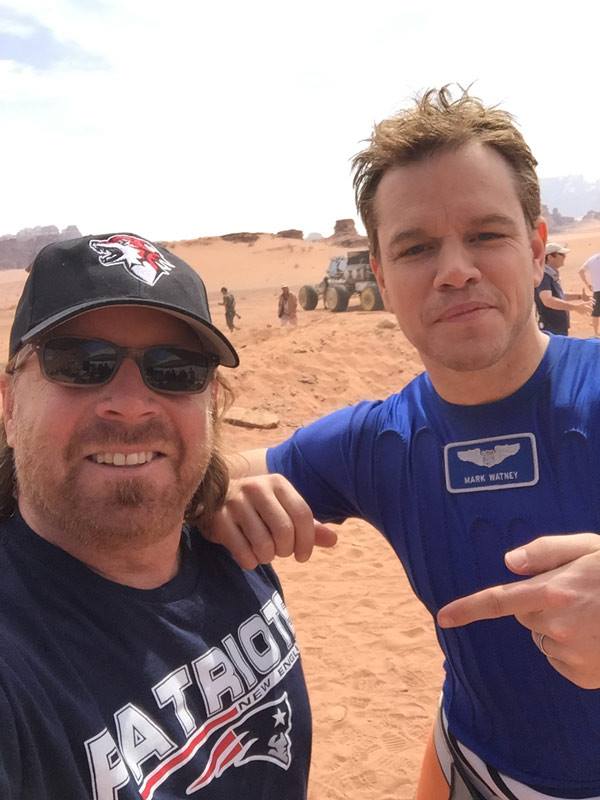 In the photo you see the practical Mars Rover, you see Damon wearing the name "Mark Watney" on his shirt and you see a bit of where Scott filmed The Martian, which recently wrapped production. It's not particularly revealing, of course, but if you're a fan of The Martian – like me – it's exhilarating to see even a glimpse of the world realized.
Of note, this photo has actually been floating around for a few weeks. It was posted on this Seattle website on March 5 but it wasn't until Weir posted it Thursday that we all took notice.
The Martian, written by Drew Goddard and based on Andy Weir's book, is directed by Ridley Scott. It opens November 25 and stars Matt Damon, Kate Mara, Jessica Chastain, Kristen Wiig, Sebastian Stan, Sean Bean, Donald Glover, Mackenzie Davis, Michael Peña, Chiwetel Ejiofor and Jeff Daniels. Here's the description:
Six days ago, astronaut Mark Watney became one of the first people to walk on Mars.
Now, he's sure he'll be the first person to die there.
After a dust storm nearly kills him and forces his crew to evacuate while thinking him dead, Mark finds himself stranded and completely alone with no way to even signal Earth that he's alive—and even if he could get word out, his supplies would be gone long before a rescue could arrive.
Chances are, though, he won't have time to starve to death. The damaged machinery, unforgiving environment, or plain-old "human error" are much more likely to kill him first.
But Mark isn't ready to give up yet. Drawing on his ingenuity, his engineering skills—and a relentless, dogged refusal to quit—he steadfastly confronts one seemingly insurmountable obstacle after the next. Will his resourcefulness be enough to overcome the impossible odds against him?