'It Follows' Wide Release Expands To 1,655 Theaters This Weekend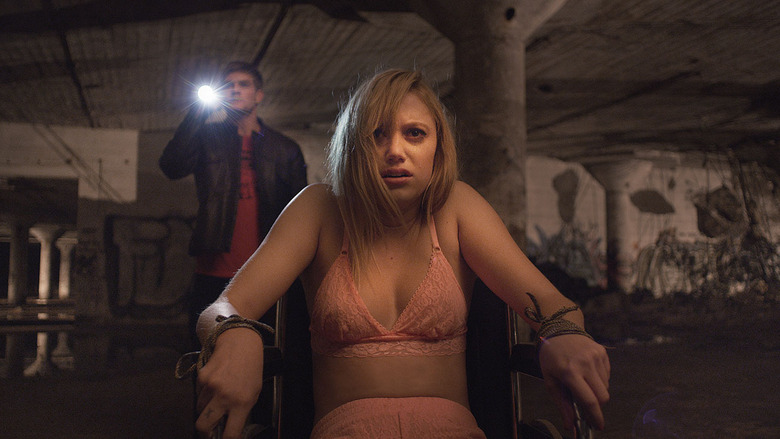 Update From Editor Peter Sciretta: The Weinstein Company has announced that they will be expanding It Follows to 1,655 theaters nationwide on Friday April 3rd 2015. The indie horror film has become a smash success, originally scheduled for a small limited release in just four theaters before a VOD release. That digital release was pushed back on March 20th as the company announced they would be keeping the film in theaters and expanding wide to 1000 screens. The film earned nearly $4 million, earning the fifth place on the weekend box office charts. Read the official It Follows wide release press release after the jump.Here is the official press release:
FOR IMMEDIATE RELEASE: RADiUS' AND DIMENSION'S BREAKAWAY HIT 'IT FOLLOWS' SPREADS TO 1,655 THEATERS NATIONWIDE THIS WEEKEND
New York, NY (March 31, 2015) ­- RADiUS and DIMENSION proudly announced today that they are further expanding their smash success IT FOLLOWS into 1,655 theaters as of Friday, April 3rd.
One of the best-reviewed films of the year (95% on Rotten Tomatoes) has also been bolstered by strong word of mouth with audiences coming in droves – exemplified by its Top Five box office performance this past weekend
IT FOLLOWS was written and directed by David Robert Mitchell and features an up and coming ensemble cast that includes Maika Monroe (THE GUEST, THE 5th WAVE) in the lead role.
Monroe plays 19-year-old Jay, who, after a seemingly innocent sexual encounter, suddenly finds herself plagued by nightmarish visions. She can't shake the sensation that someone, or something, is following her. As the threat closes in, Jay and her friends must somehow escape the horrors that are only a few steps behind.
Angie Han's original story from March 20th 2015 follows:It Follows will get the opportunity to stalk sexually active teenagers nationwide. Following a very strong limited release opening for the indie horror gem, Radius-TWC is opting to give it a nationwide release. Meanwhile, the planned VOD release has been shelved for the time being. More on the It Follows wide release plans after the jump. 
The original plan was for It Follows was a limited theatrical run starting March 13, followed by a VOD release on March 27. It's a model that's worked well for lots of films like It Follows — indies that have drawn good reviews on the festival circuit, but aren't expected to become mainstream hits.
However, It Follows fared better than expected last weekend, earning $160,089 in just four theaters (two in Los Angeles and two in New York). In light of those figures, Radius-TWC is looking to expand. It Follows will open in roughly 40 theaters this weekend, and then roll out to over 1,000 next weekend. Not bad for a film that cost just $2 million to make.
David Glasser, chief operating officer of The Weinstein Co., explained the obvious rationale behind the decision. "The movie is performing big, so we are going to chase it," he said. Glasser did not say when It Follow's new VOD release date would be. However, the fact that it's set to open in chains like AMC (which refuse to screen films that hit VOD while they're still in theaters) suggests it's some time out.
Directed by David Robert Mitchell, It Follows centers on a young woman (Maika Monroe) haunted by a sexually transmitted curse. It's drawn rave reviews from critics all across the board – including our own Germain Lussier, who called it "one of the scariest horror films in years." Keir Gilchrist, Lili Sepe, Olivia Luccardi, Jake Weary, and Daniel Zovatto also star.
For a list of theaters showing It Follows this weekend, check the movie's official website.
[Source: Variety]