'Tangerines' Trailer: Oscar-Nominated Drama Promotes Peace In A Time Of War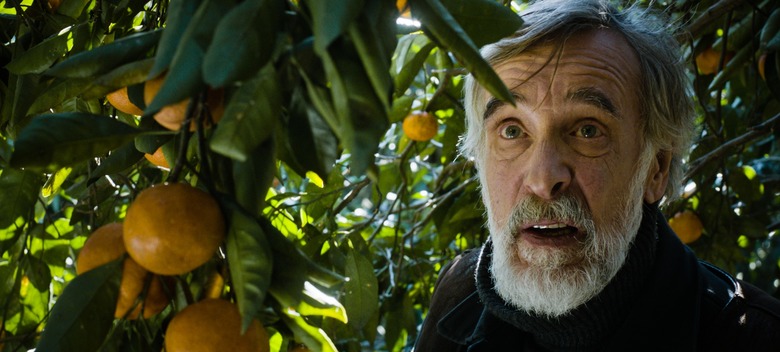 The last of 2015's Best Foreign Language Picture nominees is finally coming to U.S. theaters. Directed by Zaza Urushadze, Tangerines follows two farmers (Lembit Ulfsak and Elmo Nüganen) who reluctantly get caught up in the 1992 war between Georgia and Abkhazia. A skirmish breaks out on their doorstep, leaving behind two badly wounded soldiers (Giorgi Nakhashidze and Mikheil Meskhi) from either side of the conflict.
Although Tangerines lost to Ida at the Oscars, it was still a major accomplishment for Estonian cinema — it was the first film ever from that country to make the list of nominees. Watch the Tangerines trailer after the jump. 
Currently, Tangerines holds a 100% on Rotten Tomatoes. Granted, that's with only six reviews — but based on how positive they are, Tangerines seems likely to maintain a high rating even after all the reviews are in. Ulfsak in particular has been raking in the praise for his portrayal of the world-weary old man who takes in the rival soldiers, and refuses to let them attack one another as he nurses them back to health.
Though it's technically a war film, don't expect big explosions or violent heroics. It's been called the "anti-American Sniper" for its thoughtful, small-scale examination of battle, and even in the trailer you can see it's more interested in promoting peace than in glorifying war.
Samuel Goldwyn Films recently picked up Tangerines for U.S. distribution and has it set for a limited release starting April 17.
Set in 1992, during the growing conflict between Georgia and Abkhazian separatists in the wake of the Soviet Union's dissolution, this compassionate tale focuses on two Estonian immigrant farmers who decide to remain in Georgia long enough to harvest their tangerine crop. When the war comes to their doorsteps, Ivo (played by legendary Estonian actor Lembit Ulfsak) takes in two wounded soldiers from opposite sides. The fighters vow to kill each other when they recover, but their extended period of recovery has a humanizing effect that might transcend ethnic divides. Set against a beautiful landscape defiled by war, this poetic film makes an eloquent statement for peace.