'Selma' Returning To Theaters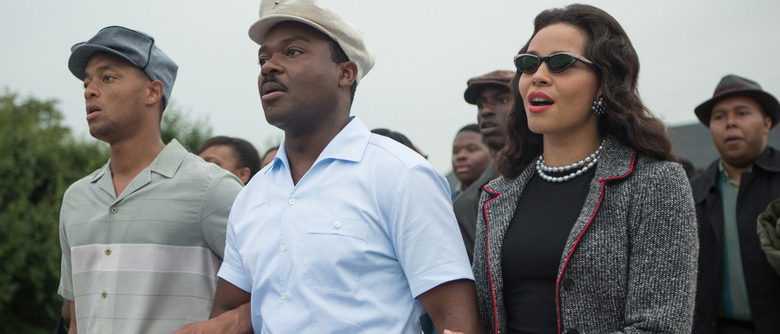 Martin Luther King Jr. is marching back into theaters. Paramount Pictures has announced an encore presentation of Ava DuVernay's Oscar-nominated historical drama Selma to begin this month, with a buy-one-get-one-free ticket promotion to sweeten the deal.
Which means if you missed the film last year, now's the perfect time to catch up; if you did see it, here's your chance to bring along that friend who never got around to it. As far as opportunities for dialogue about race relations go, it definitely beats that awkward Starbucks initiative. Get all the details on the Selma re-release after the jump. 
Paramount has Selma back in theaters starting March 20. The timing might seem odd, considering Selma didn't open all that long ago. (Heck, it's still in theaters at some locations.) But there's a good reason for the encore engagement — it is timed to commemorate the 50th anniversary of the events depicted in the film.
Scripted by Paul Webb, Selma follows Dr. Martin Luther King (David Oyelowo) over three months in 1965. In a campaign for civil rights, King leads the Selma to Montgomery marches of 1965. His efforts culminate in the signing of the Voting Rights Act by President Lyndon B. Johnson (Tom Wilkinson).
Selma was considered by many (us included) to be one of the best films of 2014. DuVernay's direction and Oyelowo's performance bring a searing immediacy to these long-ago events. Of course, so does the film's depressing modern-day relevance — Selma reminds us of how long we've come, but also how long we still have to go.
Additionally, Oyelowo is surrounded by an excellent supporting cast that includes Carmen Ejogo, Tim Roth, Oprah Winfrey, Common, Keith Stanfield, and Cuba Gooding Jr. It also boasted a powerful anthem by Common and John Legend that won Best Original Song at this year's Oscars.
Still not sure? Maybe this excellent trailer will help you make up your mind.
Actually, that trailer is missing one of the key pieces of the movie, namely Common and John Legend's "Glory," so here's a video of that.