Cool Stuff: Mondo Starts Terrence Malick Poster Series With 'Badlands'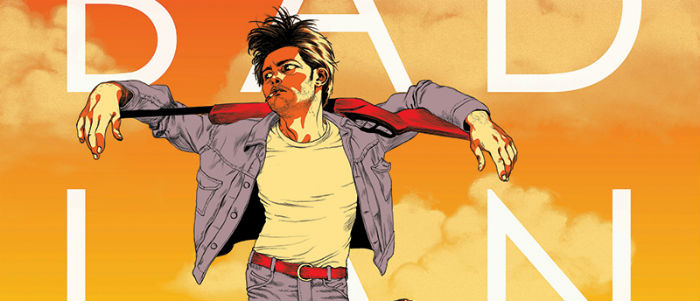 Mondo has just announced they're doing a series of posters based on the films of Terrence Malick. It'll take place over the course of the year but it's starting in the same place Malick did, the 1973 film Badlands. Martin Sheen and Sissy Spacek starred in the story of a young girl who takes taken on a killing spree by her boyfriend. Artist Tomer Hanuka did the poster and it goes on sale March 19. Below, see the full image of the Mondo Badlands poster. 
Here's the regular and variant of Badlands by Tomer Hanuka.
Mondo Badlands posters by Tomer Hanuka
These are both 24x36 inch screenprints. The regular (yellow/orange) is an edition of 275 and will cost $45. The variant (blue/purple) is an edition of 125 and costs $65. It'll go on sale at a random time Thursday March 19 by following @MondoNews.
Here's the brief write up by the Mondo crew:
Tomorrow we'll be releasing BADLANDS by Tomer Hanuka! This is the first poster in a Terrence Malick Director Series that will continue over the next year. We're big Malick fans and are pumped to kick off the series with a poster for his first feature. Tomer did an incredible job capturing the theme of the film, complemented by type treatment by Avi Neeman.
Here's what Tomer had to say about the poster:
"As bodies pile up in BADLANDS, and Kit & Holly drive deeper into a fairy tale of dreamy romance and desensitized violence, it is our sinful desires they're burdening, embodied here by Sheen, crucified against an all American sky."
This is a very trippy, beautiful poster with perfectly realized visions of Sheen and Spacek. They're both recognizable, but just off enough to say something about their character.
To be honest though, the fact Mondo is doing a full Malick director's series is the most exciting part of this announcement. His films just lend themselves to such evocative imagery, I can't wait to see what Mondo's artists come up with.
What do you think of the Mondo Badlands poster?