'Barely Lethal' Trailer: Hailee Steinfeld Is A Teen Assassin [Updated]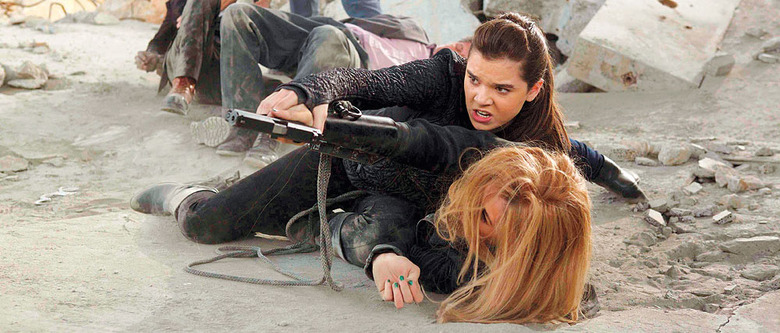 Here's a slightly different spin on the "deadly operative just wants to lead a simple life" trope. Kyle Newman's Barely Lethal stars Hailee Steinfeld as a teenager who's been trained since childhood to be an assassin. Kind of like Hit-Girl, or Hanna, or Marvel's Black Widows. Only she decides she wants out so she can become a high schooler instead.
As always happens in these types of movies, though, she discovers that leaving her old life behind isn't as easy as she'd hoped. Among those on her tail are Samuel L. Jackson, Jessica Alba, and Game of Thrones' Sophie Turner. Watch the Barely Lethal trailer after the jump.
Update: Newman points out this Barely Lethal trailer is the Arabic version, with an official version for the U.S. market to arrive shortly.
Gulf Film debuted the Barely Lethal trailer on YouTube (via The Playlist).
[Removed]
The Barely Lethal trailer arrives over a year after we got our first look at some stills from the film. At the time, director Newman explained that Megan has prepared for "normal" teen life the same way the rest of us did — through pop culture. "She treats high school like a ­mission," he said. "Her briefing is Teen Vogue, Seventeen, and everything from Mean Girls to Clueless."
Perhaps that hodgepodge of references explain why Barely Lethal feels so riddled with cliche. Steinfeld's charisma goes a long way toward selling this film, but even she seems to have trouble with the film's uneven tone. On the bright side, Game of Thrones fans who've been waiting for Sansa to follow Arya's footsteps – or X-Men fans curious about the new Jean Grey — should be pleased to see Turner kicking some ass.
Barely Lethal doesn't yet have a release date, though there is some progress being made on that front. It's currently appealing its R rating, and A24 and DirecTV are reportedly looking to put it in theaters and on DirecTV next month.