'Sharknado 3' Gets A Premiere Date And A Predictably Ridiculous Title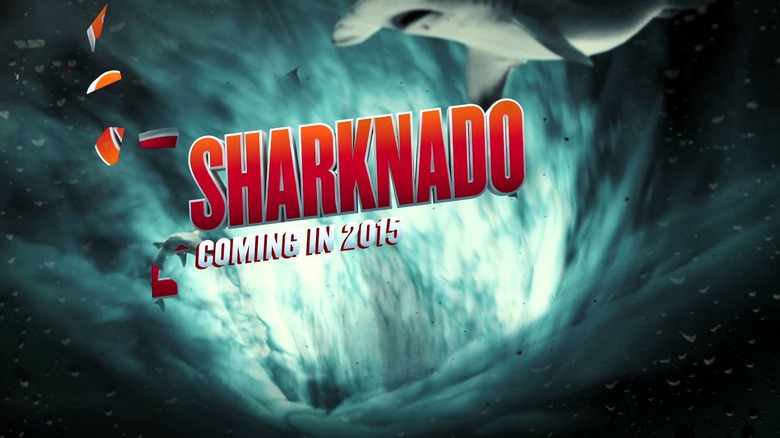 Thank climate change for the fact that storms filled with murderous flying sea creatures have become an annual tradition. Syfy has set a July premiere date for the next installment of the harrowing Sharknado saga, titled Sharknado 3: Oh Hell No! Because of course it is. More details on the Sharknado 3 release after the jump. 
The network revealed today that the two-hour premiere of Sharknado 3: Oh Hell No! will begin Wednesday, July 22 at 9 PM on Syfy. The announcement seemingly puts to rest speculation that Sharknado 3 would be delayed following weeks of labor strikes.
In fact, not only is the Sharknado arriving right on time, it's planning to go all over the place. Sharknado 3: Oh Hell No! will debut in an additional 85 countries within 24 hours of its U.S. bow.
As titles go, Sharknado 3: Oh Hell No! is no Sharknado 2: The Second One, but it's rooted in the same over-the-top spirit. "We wanted this third title to boldly go where no shark movie has gone before," said Chris Regina, SVP of program strategy at Syfy. "Sharknado 3: Oh Hell No! embraces the larger-than-life irreverence that has made these movies so popular and entertaining."
Producer David Michael Latt of The Asylum credits "marketing guru" Mike DiGrazia for coming up with the "Oh Hell No!" part. DiGrazia is the same guy who came up with the taglines for Sharknadoes 1 and 2, "Enough said!" and "Shark happens," respectively.
Anthony C. Ferrante is directing Sharknado 3: Oh Hell No! based on a screenplay by Thunder Levin. This time around, the sharknadoes will be hitting Washington, D.C. and then tearing down the Eastern Seaboard toward Florida. Here's the cast list, which is just as full of WTF as everything else about this franchise:
Sharknado 3 will cause mass destruction in Washington, D.C. before roaring down the Eastern Seaboard and into Florida, and stars Ian Ziering as Fin, Tara Reid as April and Cassie Scerbo as Nova. Joining them will be David Hasselhoff as Fin's father, Gil; Bo Derek will play April's mother, May; Ryan Newman will play April and Fin's daughter, Claudia Shepard, and Jack Griffo will portray Claudia's friend, Billy.
Additional cameo roles include Mark Cuban as the President of the United States; Ann Coulter as the Vice President; Michele Bachmann as herself; Jerry Springer as Mr. White, a manic tourist; Washington Redskins tackle Tom Compton as a reporter; *NSYNC singer Chris Kirkpatrick as a pool lifeguard, and Chris Jericho, who will portray Bruce the roller coaster ride operator.