'Pixels' Trailer: Adam Sandler Fights Old School Video Game Characters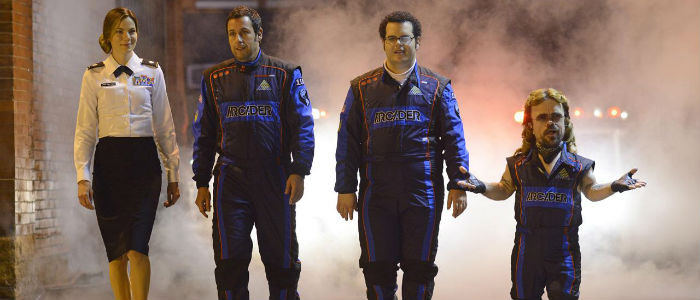 When old school video game icons attack the world, who ya gonna call? Adam Sandler, Josh Gad, Kevin James and Peter Dinklage of course. Those four, along with Michelle Monaghan, lead Pixels, the latest film from director Chris Columbus. It opens July 24 but you can watch the first Pixels trailer now.
Here the trailer for Pixels.
Pixels Trailer
I have to say, it's a pretty solid first trailer. I love the idea of aliens not understanding what video games are and misinterpreting it. Plus, the pixel effects look really good, even in this early stage. This is just such a home run idea, if Columbus makes the movie he's capable of, and fans of Sandler and James come in, there's no way it's not one of the biggest surprises of the summer.
For more on Pixels, check out our extensive Comic Con coverage.
Also of note, check out this Easter Egg in the trailer
Pixels stars Adam Sandler, Kevin James, Michelle Monaghan, Josh Gad and Peter Dinklage. It opens July 24. Official information:
In Pixels, when intergalactic aliens misinterpret video-feeds of classic arcade games as a declaration of war against them, they attack the Earth, using the games as models for their various assaults. President Will Cooper (James) has to call on his childhood best friend, '80s video game champion Sam Brenner (Sandler), now a home theater installer, to lead a team of old-school arcaders (Dinklage and Gad) to defeat the aliens and save the planet. Monaghan plays the team's unique weapons specialist. The action-comedy is directed by Chris Columbus from a story by Tim Herlihy and a screenplay by Tim Herlihy and Timothy Dowling, based on the short film of the same name by Patrick Jean. The film is produced by Adam Sandler, Chris Columbus, Mark Radcliffe, and Allen Covert. Executive Producers are Barry Bernardi, Michael Barnathan, Jack Giarraputo, Heather Parry, Tim Herlihy, Steve Koren, Patrick Jean, Benjamin Darras, Johnny Alves, Matias Boucard, Seth Gordon, and Ben Waisbren.