A 'Blue Thunder' Remake Is Moving Forward And Is Actually A Great Idea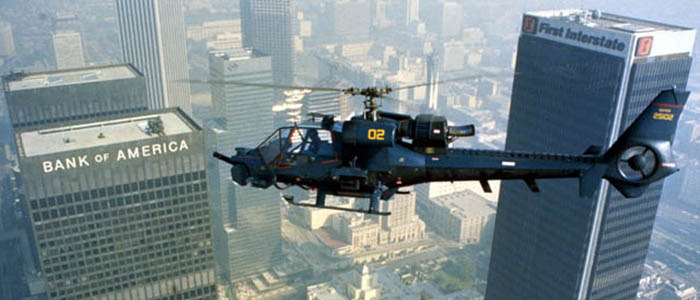 Here's a movie that is a great choice for a remake. Blue Thunder was a 1983 action/thriller featuring Roy Scheider as the pilot of a state of the art helicopter being used as an experimental addition to the LAPD's arsenal with the idea of controlling crowds during the 1984 Olympics. It has hung around as an object of fascination for helicopter enthusiasts, but doesn't have a huge mainstream profile now.
The original is only an OK movie, but it has concepts that are terrific and as timely as ever, especially with respect to the militarization of civilian police forces, and the interaction between law enforcement and technology. Now there's a Blue Thunder remake in the works, and it will immediately distinguish itself from the original by focusing on a drone, rather than a 'copter with a human pilot.
THR reports that Dana Brunetti (Fifty Shades of Grey) is producing a film that will feature "the world's most advanced drone" with Marvel exec and screenwriter Craig Kyle tackling the script. Columbia and Michael De Luca are backing the film.
Drone use in the US and abroad is a hotly-debated topic, and tacking that concept on to the very relevant concerns about militarized police forces makes this a timely thriller concept. We're already seeing other drone movies hit theaters, like Andrew Niccol's Good Kill, and more in development.
With Brunetti doing well right now thanks to Fifty Shades, and Columbia rebuilding its own image, we might see this development move forward fairly quickly. (Another concept for a Blue Thunder remake was already going on at Escape Artists, which is based at Sony, and EA's Jason Blumenthal will be a producer on this version, with Carter Swan of Trigger Street also named.)
Here's a trailer for the original Blue Thunder.