Michael Fassbender Sells NeXT Computers In 'Steve Jobs' Image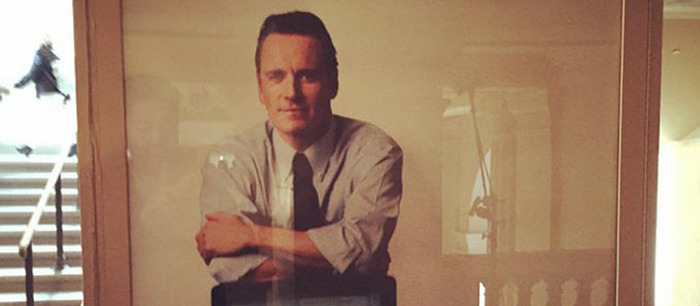 The shots we've seen of Michael Fassbender as Steve Jobs for the upcoming film about Apple's co-founder show the actor looking more or less like himself. But the materials we've seen haven't been official stills or footage from the film. Now there's something in between that gives a good idea of what Fassbender's take on Apple's co-founder will look like when we see Danny Boyle's film Steve Jobs later this year. It's a shot that shows the film's version of Jobs when he was working on his major post-Apple product.
This shot of Fassbender as Jobs is part of what appears to be set dressing advertising the NeXT computer system, which Jobs originally developed after his first ouster from Apple. The tagline on this poster was originally used in 1988 for the first NeXT launch, though the real-life image did not feature Jobs himself.
(There's some confusion as to whether the NeXT product launch seen in this film is the original 1988 event, or a 1997 event which moved NeXT from a hardware/software product to a software-only operating system that could run on PCs. As far as we know, the event in the film is the 1988 one.)
A photo posted by @seannung on
Here's the real original NeXT launch poster, from Flickr.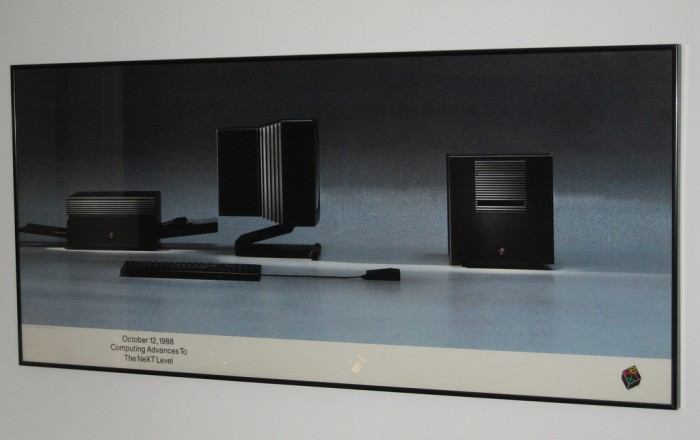 Steve Jobs opens on October 9, 2015
Set backstage at three iconic product launches and ending in 1998 with the unveiling of the iMac, STEVE JOBS takes us behind the scenes of the digital revolution to paint an intimate portrait of the brilliant man at its epicenter.
STEVE JOBS is directed by Academy Award® winner Danny Boyle and written by Academy Award® winner Aaron Sorkin, working from Walter Isaacson's best-selling biography of the Apple founder.  The producers are Mark Gordon, Guymon Casady of Film 360, Scott Rudin and Academy Award® winner Christian Colson.
Michael Fassbender plays Steve Jobs, the pioneering founder of Apple, with Academy Award®-winning actress Kate Winslet starring as Joanna Hoffman, former marketing chief of Macintosh.  Steve Wozniak, who co-founded Apple, is played by Seth Rogen, and Jeff Daniels stars as former Apple CEO John Sculley.  The film also stars Katherine Waterston as Chrisann Brennan, Jobs' ex-girlfriend, and Michael Stuhlbarg as Andy Hertzfeld, one of the original members of the Apple Macintosh development team.