'Sherlock' Christmas Special Will Go Back In Time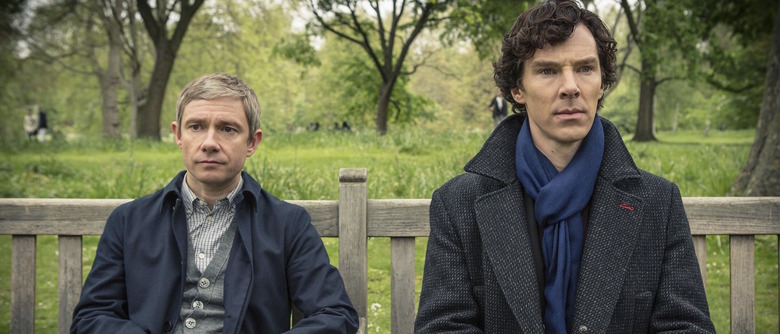 Sherlock is going back to its roots. Though the popular BBC drama moves Arthur Conan Doyle's classic mysteries to the modern day, the upcoming Sherlock Christmas special will take place in Victorian London, as confirmed by showrunner Steven Moffat. Find out how and why after the jump. 
Speculation about the Sherlock Christmas special has been swirling for months. In November, BBC One offered a first look at Benedict Cumberbatch and Martin Freeman in Victorian garb. More recently, the actors were spotted filming in period costume, including Sherlock's signature deerstalker hat. (Well, signature based on some renditions of the character.)
This is what we've been doing today! Later on a pic of Sherlock and John as they'll appear in the Special #221back pic.twitter.com/Aq4vncKpKy

— sue vertue (@suevertue) November 25, 2014
#221back #Sherlock #notkidding pic.twitter.com/iTfDqfJI0R

— BBC One (@BBCOne) November 25, 2014
Some fans have wondered if the old-timey clothing might be for a dream sequence or costume party scene. But based on Moffat's latest comments to EW it sounds like the Victorian Sherlock Christmas special simply isn't meant to be canon:
The special is its own thing. We wouldn't have done the story we're doing, and the way we're doing it, if we didn't have this special. It's not part of the run of three episodes. So we had this to do it – as we could hardly conceal – it's Victorian. [Co-creator Mark Gatiss] and me, we wanted to do this, but it had to be a special, it had to be separate entity on its own. It's kind of in its own little bubble.
That doesn't mean the dream sequence or costume party theories are necessarily invalid, but it does suggest the episode is more about Moffat and his team having fun than it is about advancing the continuity of other Sherlock episodes. Moffat added that the special is just about done, and that he's happy with it.
The Sherlock Christmas special doesn't have an air date as of yet, but it's expected to hit sometime around Christmas.