Report: Apple To Launch TV Service This Fall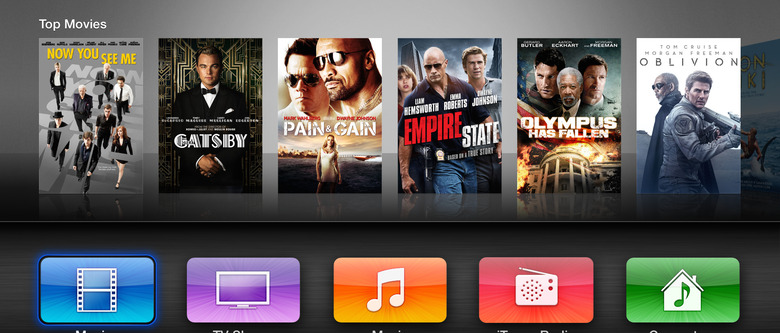 2015 is shaping up to be a great year for cord cutters, at least if they're Apple fans. Following last week's announcement of HBO Now, Apple is reportedly planning a TV service to launch in the fall. Learn everything we know about the new Apple TV service after the jump. 
According to the WSJ, Apple is aiming to announce its new service around June and roll it out this fall. There are no confirmed, concrete details at this point, but the idea is for the service to offer live streaming TV along with an on-demand library to be stored in the cloud. Subscribers would be able to watch on Apple products including Apple TV, iPhones, and iPads.
The company is negotiating with programmers to offer a bundle of about 25 channels including broadcast networks like ABC, CBS, and Fox, and popular cable channels like ESPN and FX. That's a lot smaller than the typical cable package, but the smaller bundle will come with a correspondingly smaller price tag. A subscription is believed to cost around $30 or $40 a month.
Apple's new service is intended to target cord cutters – consumers who enjoy online video but don't like paying for expensive cable subscriptions that come with hundreds of channels they don't even want. (There is an argument to be made in favor of that model — basically, that it subsidizes smaller channels that might not stand a chance otherwise — but that's a different story.)
The news comes after years of on-again, off-again talks between Apple and various media companies. However, the WSJ notes there are still some speed bumps. Apple wants the rights for some programming, such as full seasons of shows, that may have already been licensed to Netflix, Hulu, or similar services.
Moreover, NBCUniversal is not currently in talks with Apple after the two companies had a falling out. Apple and Comcast (NBCUniversal's parent company) had been considered developing a streaming television platform together, but Apple started to believe Comcast was "stringing it along" to work on its own X1 set-top box. NBCUniversal owns several popular channels including Syfy, Bravo, and of course NBC.
Still, it's a major step forward for Apple's TV plans and a boon for cord-cutters. It also seems to be a sign that the industry in general is evolving, after years of resistance from cable providers and the media companies who work with them. Now, if only Apple could figure out that Apple TV set that's been rumored for years.