Early Buzz: Judd Apatow And Amy Schumer Push Each Other To New Heights In 'Trainwreck'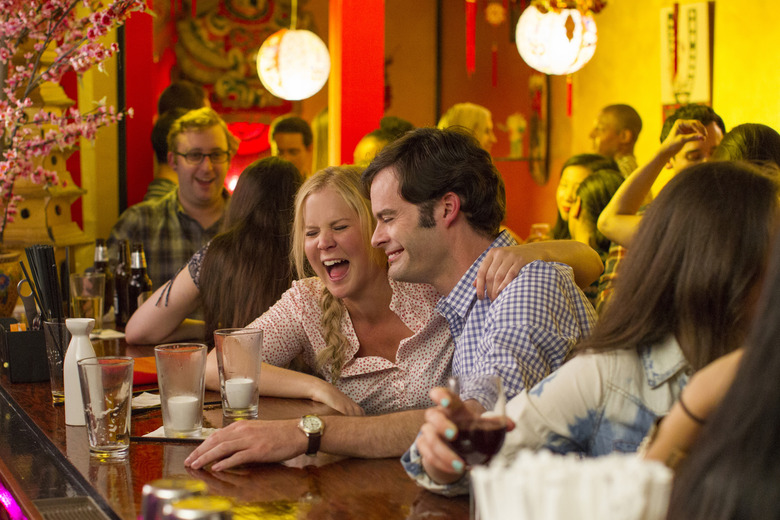 Ten years have passed since Judd Apatow made his feature directing debut with The 40-Year-Old Virgin, but none of his films since have quite been able to surpass that first one. None, that is, until Trainwreck. If the early buzz out of SXSW is to be believed, his latest romantic comedy represents a new high mark for the comedy director.
Apatow's not-so-secret weapon this time is Amy Schumer, who stars and wrote the script. In some ways, it's familiar territory for Apatow – Schumer plays a woman who doesn't quite have her life together, until she meets the one person who might finally inspire her to move forward — but Schumer's unique sensibility puts a fresh spin on his perspective. Get the Trainwreck early buzz after the jump. 
First, some general praise.
Just got out of a triple of TRAINWRECK, SPY & FURIOUS 7! Thanks, #sxsw, for a peek at what will be this summer's biggest hits. #prediction

— Doug Benson (@DougBenson) March 16, 2015
Judd Apatow's TRAINWRECK. Masterwork-in-progress? #SXSW

— Justin Chang (@JustinCChang) March 16, 2015
Trainwreck is very funny and everyone is good in it. Congrats @JuddApatow @amyschumer Hader & everybody else #SXSW

— Christopher Miller (@chrizmillr) March 16, 2015
The most surprising thing about TRAINWRECK: it's just a straightforward rom-com. The least surprising thing: it's wonderful and hilarious.

— Meredith Borders (@mereborders) March 16, 2015
Trainwreck starts off dirty and ends up sweet. Don't want to start the hype but... it may be time to start the hype. #sxsw

— Meeta Agrawal (@meeta) March 16, 2015
"This is me really taking a look at me." Amy Schumer after TRAINWRECK. Apatow/Schumer combo hits target of raunchy, romantic & sweet. #sxsw

— Mark Olsen (@IndieFocus) March 16, 2015
And now some less general praise.
Trainwreck is even funnier when you realize the magazine part's a stealth We Need to Talk About Kevin sequel w/Tilda & Ezra.

— Stephen Saito (@mfrushmore) March 16, 2015
Despite the fact that Trainwreck was screened as a work-in-progress, it didn't play like one.
Saw the work-in-progress cut of TRAINWRECK. Can't imagine much will change before it hits theaters – it's pretty damn polished. #SXSW

— Andrew Eaton (@andrewetn) March 16, 2015
Trainwreck was shown as a "work in progress." I hope @JuddApatow doesn't change a thing. Crowd was howling. Instant classic. #SXSW2015

— Kevin Polowy (@djkevlar) March 16, 2015
Trainwreck's more emotional aspects struck a chord with many.
So I didn't expect this, but #Trainwreck just ended and I can't stop crying? #sxsw

— Amy Kaufman (@AmyKinLA) March 16, 2015
Bill Hader is so endearing in #Trainwreck. Everyone's gonna want to date him after seeing this. #sxsw

— Amy Kaufman (@AmyKinLA) March 16, 2015
Enjoyed @TrainwreckMovie w/@amyschumer & @JuddApatow. Schumer was funny, awkward & real. Laughed (a lot) and cried (a little). #SXSW

— Cathytastrophe (@CatEdison) March 16, 2015
Indeed, Trainwreck might be Apatow's best film ever.
The early consensus is that Trainwreck marks Apatow's best comedy in years. As far as his directorial body, it easily tops This Is 40 and Funny People, probably knocks off Knocked Up and — now we're approaching hallowed ground — may even rival the Apatow gold standard, The 40-Year-Old Virgin. In other words, Trainwreck is an instant classic.
Maybe it's the New York connection or the fact that it's non-stop friggin hilarious, but TRAINWRECK might be @JuddApatow's best movie #sxsw

— Erik Davis (@ErikDavis) March 16, 2015
Though it still suffers from some of Apatow's usual flaws.
TRAINWRECK was very funny, but needs a few more edits. Since it was a work-in-progress, I wonder how close it will be to final cut. #sxsw

— The Lamplight Review (@LampLightRev) March 16, 2015
Trainwreck is classic Apatow. A little long, but very funny. #sxsw

— John Laird (@SideOneTrackOne) March 16, 2015
Not surprisingly, Schumer kills it as a non-stereotypical female character.
THR:
The film bears all the Apatow hallmarks: awkward sex scenes, fraught family dynamics, bromances, weed, astute observations on office politics and a frequently disarming poignancy. But it's Schumer's voice at work here, and the stand-up comic's hilarious takes on everything from parenthood to cheerleading are what gives the film its uniquely modern point of view.
Trainwreck: hilarious, raunchy and fun. A fantastic breaking of stereotypical female characters. Amy Schumer, you complete me #SXSW

— Amirose Eisenbach (@Amirosie) March 16, 2015
But LeBron James might be the secret MVP.
[...] Apatow's film is also a showcase for James, who steals every damn scene he's in. And this is not the cameo many thought it would be, but a substantial supporting role in the film as the lifelong best friend to Hader's doctor.
I just laughed my ass off at TRAINWRECK & SPY. Holy shit. Great stuff. Also, John Cena and LeBron are hilarious as is Rose Byrne (duh) #sxsw

— Bill Graham (He, Him, His) (@cablebfg) March 16, 2015
TRAINWRECK is extremely funny. Played huge. So many great moments. And who knew @KingJames could be so funny. Will be a big hit.

— Steven Weintraub (@colliderfrosty) March 16, 2015
Two stealth MVPs of TRAINWRECK: @KingJames and @JohnCena. Both made me laugh so hard I snorted. #SXSW

— Adam B. Vary @ SXSW (@adambvary) March 16, 2015
Some people merely liked it instead of loving it.
TRAINWRECK: It shines brightest and is most funny when it reflects Amy Schumer's comic personality in raw form. #sxsw

— Peter Martin (@peteramartin) March 16, 2015
TRAINWRECK: Disappointed, though not surprised, to see so much emotional growth / 'family is the only way to happiness' propaganda. #sxsw

— Peter Martin (@peteramartin) March 16, 2015
TRAINWRECK: Suppose I expected a certain amount of sanding off to aim for a wider audience. It's a very funny movie; I laughed a lot. #sxsw

— Peter Martin (@peteramartin) March 16, 2015
#Trainwreck is sweet and Schumer gives a fine performance, but I get the impression that everyone else liked it a lot more than I did. #SXSW

— William Bibbiani (@WilliamBibbiani) March 16, 2015
And of course, there was also that one person who hated it (there's always that one person).
Trainwreck lands in theaters July 17.