Cool Stuff: 'Star Wars' Speeder Bike Quadcopter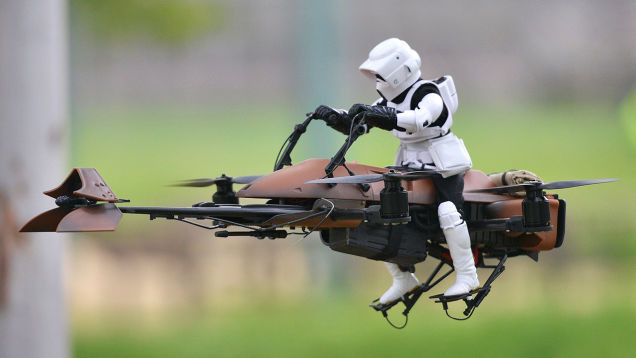 No one has ever watched Return of the Jedi and not wanted to ride a speeder bike through the forest of Endor. The Speeder Bike chase is simply one of the coolest scenes in any of the movies, combining drama, character and pulse pounding action. But even today, over thirty years later, it's impossible to experience. We can drive cars, motorcycles, even play video games that feel very close, but nothing quite duplicates the likely thrill of riding that bike.
And while we still can't hop on that bike ourselves, there's now a way to at least control something that fast and maneuverable. It's a homemade Speeder Bike Quadcopter. Check it out below.
Homemade Star Wars Speeder Bike chase
The YouTube description says "Imperial speeder bike FPV quad, made out of an old POTF 12 in figure Speeder Bike toy." So that's the technical info.
Head to the above links for more images and video.