Jared Leto's Joker Reportedly Based On 'Dark Knight Returns;' Plus More 'Suicide Squad' Rumors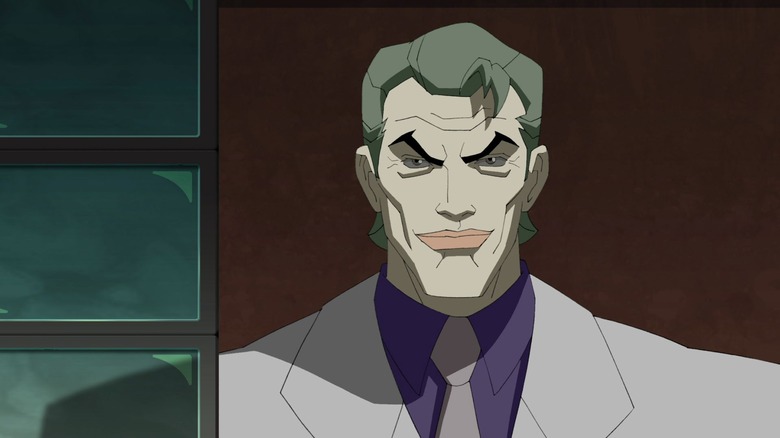 On the big superhero calendar, both DC and Marvel have major films that start shooting soon. For Marvel, it's Captain America: Civil War and for DC, it's David Ayer's Suicide Squad. Ayer has been pretty awesome with fans so far, regularly tweeting out teases at the pre-production as well as the transformation of star Jared Leto into the Joker. Not to mention lots of his cast recently had films out so we've been hearing lots of little snippets here and there too.
Movie scooper El Mayimbe has also been all over Suicide Squad, dropping three significant pieces of information over the last few days on his Instagram. The latest is the biggest, that Jared Leto's Joker will be primarily based on the Frank Miller Dark Knight Returns incarnation. There's more too, including a bit of his situation at the start of the film and links to Batman.
Below, read the latest Jared Leto Joker information as well as potential info on another character in the film and the villains.
(Note: The above image is from the DC Animated Dark Knight Returns film, not the Miller comic.) 
These rumors all come from El Mayimbe's Instagram. First up, Jared Leto.
Today's #SUICIDESQUAD FIRE is all about Jared Leto's THE JOKER! So what I'm being told, Leto's Joker is most definitely based on THE DARK KNIGHT RETURNS version. He's lean & scarred but his suit does have broad shoulders. Joker works out in his cell like an inmate when he is interrogated by Amanda Waller. He's doing hand stand push ups so it makes sense that Jared Leto said he is putting on weight. He's definitely not skinny, but in fact more muscular. He has bleached skin not make up. #SPOILER – He's killed one of Batman's sidekicks, there is a lot of references to his past crimes. He kills a lot of people. HUGE #RUMOR – I'm also told The Joker has a lot of scenes with HUGO STRANGE! He's the psychiatrist at the prison & seems to be a part of the story yet I heard nothing of casting or mention of a single casting choice. Hugo Strange has quite a few interactions with the Joker & Harley Quinn. It's not the regular security. It's internal one on one thing. #THEJOKER #THEDARKKNIGHTRETURNS #JAREDLETO #HUGOSTRANGE #AMANDAWALLER #HARLEYQUINN #DC #DCCU #DCCOMICS #SCOOP #FIRE #BOOM
A photo posted by Umberto Gonzalez (@umbertogonzalez) on
Lots and lots of interesting stuff in there. The physicality of the character. The bleached skin. The huge broad shoulder suits. Hugo Strange. And that prior connection to Batman. I think we can all agree since the Joker is Batman's primary nemesis, introducing him in a non-Batman movie remains one of the most fascinating and potentially exciting choices Warner Bros is making. But that's not all. El Mayimbe also believes Magic Mike and True Blood star Joe Manganiello is in line to play Deathstroke in the film:
#DEATHSTROKE IN #SUICIDESQUAD! Deathstroke works with/for #ONSLAUGHT & does their dirty work. He's a hired assassin and he doesn't have any powers like in the comic book. They're going for a pre-super villain Deathstroke. He's a huge part of both of the major set pieces of the film. His introduction is INSANE! He's badass & almost takes the team down on one mission single handed. Deathstroke has THE breakout & choicest role in the film. The running gun battle that sources are describing is something else. His suit is very stealth oriented. They used an actual US military tactical outfit for the basis. He's armed to the teeth, uses a sword and automatics. In concept artwork he has two eyes. The mask is there and it's the iconic one.  Rumor about Jason Clarke still in play is not true because he originally got offered Deathstroke months ago but has a scheduling conflict with Marc Foster's' 'All I See Is You.' Joel Kinnaman originally tested for the role as well but got Rick Flagg instead. Joe Manganiello has a scheduling conflict with Ryan Murphy's 'Scream Queens' BUT HE JUST DROPPED OUT! What does that mean? Deathstroke is 'probably' his. ???? Tune in tomorrow for more scoopage! A photo posted by Umberto Gonzalez (@umbertogonzalez) on
The curious thing about this rumor is, in a movie so chock full of actors and roles, why is this one getting leaked so late in the game? Maybe it's because of those scheduling problems listed above. But Manganiello has been trying to break into superheroes for a while now and this could be it.
One last scoop from Mayimbe:
Meet the head bad guy in #SUICIDESQUAD – #ANTIPHON who leads a badass terrorist cell called #ONSLAUGHT which is up against #DEADSHOT & the rest of the Suicide Squad. Onslaught are hunting super heroes & villains for their own agenda. They're like a special ops team made up of mercenaries. Antiphon is a burn victim & has a prosthetic leg. Ed Harris was rumored for the role. Once Antiphon is officially cast will let you guys know. Tune in tomorrow & Friday for more cool stuff from the upcoming #DC #film which is shaping up to be really dope! #dccu #dccomics #cinematic #universe
A photo posted by Umberto Gonzalez (@umbertogonzalez) on
I don't know much about this organization or character but it sounds like a formidable opponent for the Suicide Squad. Would you agree?
What are your thoughts on these Jared Leto Joker and Suicide Squad rumors?