'Hotel Transylvania 2' Trailer: Vampire Adam Sandler Throws A Kid Off A Tower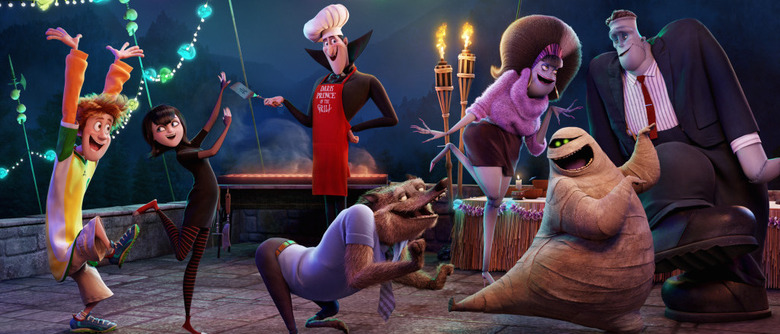 Vampires — they're just like us! The first Hotel Transylvania demonstrated that raising a teenager is just as challenging for bloodsuckers as it is for the rest of us, and now the Hotel Transylvania 2 trailer reveals that vampires have their own version of "sink or swim." Only instead of tossing someone into the deep end so they'll learn to swim, it involves throwing a toddler off a tower so he'll learn to fly.
Watch the Hotel Transylvania 2 trailer after the jump.
Sony unveiled the Hotel Transylvania 2 trailer on YouTube.
Adam Sandler returns as the voice of Drac for the animated sequel, which is once again directed by Genndy Tartakovsky. Also back are most of the "Drac Pack," including Steve Buscemi as werewolf Wayne, Kevin James as Frankenstein, David Spade as invisible man Griffin, Selena Gomez as Drac's daughter Mavis, and Andy Samberg as her human beau Jonathan.
New cast members include Keegan-Michael Key, who replaces Cee-Lo Green as Murray the Mummy, and Mel Brooks as Drac's dad Vlad. Hotel Transylvania 2 opens doors on September 25, 2015.
The Drac pack is back for an all-new monster comedy adventure in Sony Pictures Animation's Hotel Transylvania 2! Everything seems to be changing for the better at Hotel Transylvania... Dracula's rigid monster-only hotel policy has finally relaxed, opening up its doors to human guests. But behind closed coffins, Drac is worried that his adorable half-human, half-vampire grandson, Dennis, isn't showing signs of being a vampire. So while Mavis is busy visiting her human in-laws with Johnny – and in for a major cultural shock of her own – "Vampa" Drac enlists his friends Frank, Murray, Wayne and Griffin to put Dennis through a "monster-in-training" boot camp. But little do they know that Drac's grumpy and very old, old, old school dad Vlad is about to pay a family visit to the hotel. And when Vlad finds out that his great-grandson is not a pure blood – and humans are now welcome at Hotel Transylvania – things are going to get batty!