Japanese 'Tomorrowland' Trailer Reveals Walt Disney/Disneyland Connection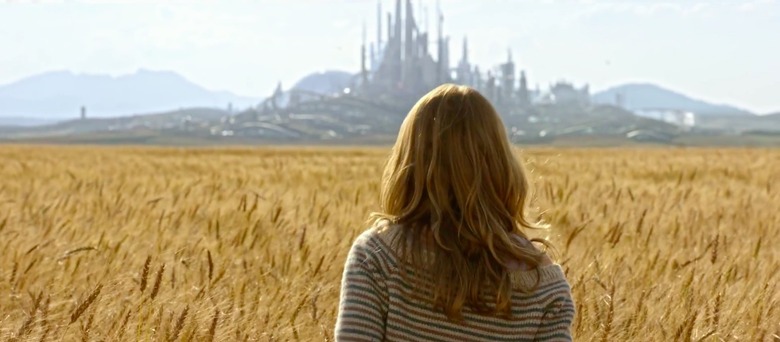 Update from Editor Peter Sciretta: The Tomorrowland Japanese trailer looks to now be officially released, you can watch it embedded after the jump. The new trailer reveals one of the biggest secrets of Brad Bird's Tomorrowland — the movie's connection to Walt Disney and Disneyland.
Germain Lussier's original March 12th 2015 story follows:
One of the biggest secrets of Brad Bird's Tomorrowland was revealed overnight as a Japanese trailer for the film made its way online. Disney has been working their magic to get all of the embeds taken down, and for good reason. The trailer has a few major, major spoilers in it including the specific link fans have been wondering about for years – what is the connection between Tomorrowland, the theme park, and Tomorrowland, the futuristic location in the movie? We now know that connection for a fact, but it's a spoiler. Continue reading about the Tomorrowland movie Disneyland connection.
The Japanese Tomorrowland trailer has been released, but apparently not officially. We were able to watch a copy before it got taken down though and it made some major revelations. Again – spoilers follow.
The trailer starts with actor Thomas Robinson, playing the younger version of George Clooney's character Frank. He get on the It's A Small World ride, likely at the 1964 World's Fair in New York. (In real life, the ride was later transferred to Disneyland in California.) The ride senses he's wearing a Tomorrowland pin, and opens up a secret compartment, likely taking him to that world. We've heard rumors about this.
When Casey (Britt Robertson) learns about Tomorrowland, of course, she's curious. The trailer shows her learning more about it from characters played by Keegan-Michael Key and Kathryn Hahn. They work in a comic book store, or something to that effect, complete with Han Solo in Carbonite on the wall.
Key and Hahn's characters explain that Tomorrowland, the theme park, is "a cover for the real thing." They then ask, "What would happen if all the geniuses decided to actually change the world?" Photos are shows of Albert Einstein and Thomas Edison over Tomorrowland. Then it's added that "Walt was one of them."
And boom, you have your Tomorrowland movie Disneyland connection. Tomorrowland in the movie is a real place, created by the world's geniuses, and Walt Disney created a theme park to cover the fact they actually did that. It's A Small World is a portal between the two.
What do you think?
Tomorrowland opens May 22.