'Iris' Trailer: Albert Maysles' Final Documentary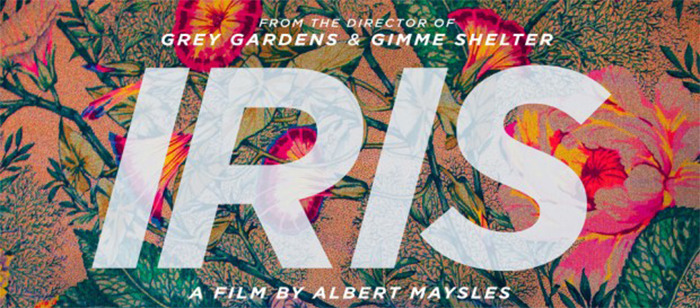 The passing of pioneering documentary Albert Maysles isn't a good way to bring attention to his final film, but we're happy knowing that we get to see one last effort from he master filmmaker. Iris is a doc nominally about Iris Apfel, the 94-year old designer and fashion icon, with the film primarily focused on the Met exhibition that celebrated her career in 2006. But the film is truly about time and art, and even filmmaking, as Iris talks to Maysles as he films her, influencing the progression of the documentary process. See the Iris trailer below.
Iris opens on April 29. Trailer via YouTube.
IRIS pairs legendary 87-year-old documentarian Albert Maysles with Iris Apfel, the quick-witted, flamboyantly dressed 93-year-old style maven who has had an outsized presence on the New York fashion scene for decades. More than a fashion film, the documentary is a story about creativity and how, even in Iris' dotage, a soaring free spirit continues to inspire. IRIS portrays a singular woman whose enthusiasm for fashion, art and people are life's sustenance and reminds us that dressing, and indeed life, is nothing but an experiment. Despite the abundance of glamour in her current life, she continues to embrace the values and work ethic established during a middle-class Queens upbringing during the Great Depression. "I feel lucky to be working. If you're lucky enough to do something you love, everything else follows."