PETA Wants A New Ending For Tim Burton's 'Dumbo' (And They May Have A Point)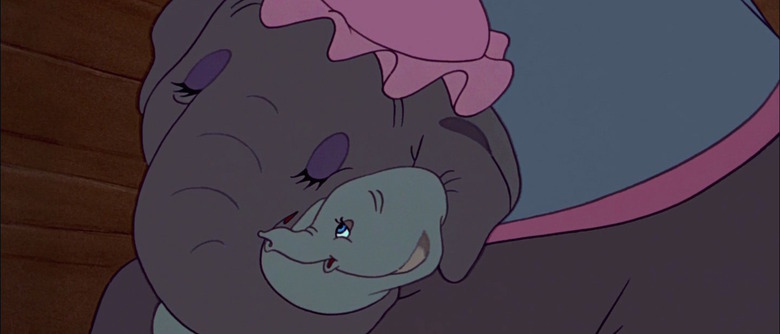 Disney has plans to retell Dumbo with Tim Burton at the helm, and PETA is hoping they're open to some changes this time around. Specifically, they want Burton to change the ending to be more animal-friendly. Get all the details about PETA's proposed Dumbo ending change after the jump. 
The 1941 Dumbo ends with the big-eared baby elephant and his mother, Mrs. Jumbo, getting their own car on the circus train. But in an open letter (via THR), PETA's senior vice president Lisa Lange revealed she has other ideas in mind:
We're hopeful that in your adaptation of Dumbo, the young elephant and his mother can have a truly happy ending by living out their lives at a sanctuary instead of continuing to be imprisoned and abused in the entertainment industry.
While the organization has been known to employ outrageous, even offensive, stunts to attract attention to the plight of animals, this seems like a more earnest and reasonable request. Lange explains in the statement:
We love the original Dumbo because it tells the story of the heartbreaking abuse that elephants in circuses endure, and we hope you will keep this storyline in the new film. A bullhook is a sharp metal weapon used in circuses to control elephants — and it's the same tool used by elephant trainers in film and television. And just like in the circus, elephants used in film and television don't perform because they want to. They perform because they're afraid that they'll be beaten if they don't.
PETA is hardly the first to note the mistreatment of circus elephants. Just a few days ago, the Ringling Bros. and Barnum & Bailey Circus announced plans to get rid of its elephant acts after mounting pressure from activists and the general public. Their former elephant performers will now be sent to a conservation center in Florida.
Indeed, there seems to be a growing discomfort with animal acts in general. SeaWorld has seen a drop in attendance since the 2013 release of Blackfish, a documentary exposing the park's inhumane treatment of orca whales.
Given all of that, it hardly seems like a victory for Dumbo and his mom to stay with the circus, bigger boxcar or no. The Dumbo retelling is bound to include a few tweaks anyway, and PETA's proposed ending seems more in line with current attitudes than the original one does.
Burton's Dumbo will be a live-action / CG hybrid, though it's unclear what form Dumbo himself will take. Ehren Kruger wrote the script and will produce with Justin Springer. No release date has been set.