Liam Neeson Has "Maybe Two More Years" Of Action Movies Left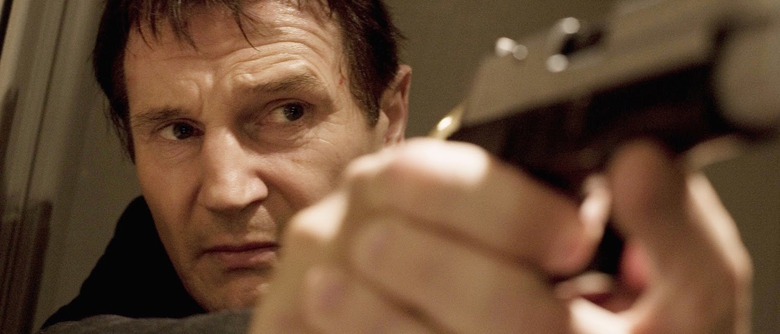 Liam Neeson's gun-toting, bone-crunching days are numbered. The 62-year-old actor estimates he has "maybe two more years" of action movies in him, after spending most of the past several years starring in Taken, movies that look exactly like Taken, and movies that otherwise build off of the badass persona he established in Taken.
Read the Liam Neeson action movie retirement comments after the jump. 
Good Morning America (via The Independent) recently sat down with Neeson and took the opportunity to ask how much longer he planned to keep going with the action-thriller genre. He responded:
Maybe two more years. If God spares me and I'm healthy. But after that, I'll stop [the action], I think.
I'm in a very, career-wise, great place. [After] the success of certainly the Taken films, Hollywood seems to see me in a different light.
I get sent quite a few action-oriented scripts, which is great. I'm not knocking it. It's very flattering. But there is a limit, of course.
Neeson was already plenty successful before Taken, starring in films like Schindler's List (for which he earned an Oscar nomination), Love, Actually, and Kinsey. And it's not like he was avoiding action movies back then — he popped up in the likes of Batman Begins and Star Wars: The Phantom Menace.
But ever since 2008's Taken made him the face of the "geri-action" subgenre, he's been churning out gritty thrillers left and right. In addition to the Taken trilogy, he's starred in A Walk Among the Tombstones, Non-Stop, Unknown, and The Grey. His latest film, Run All Night, centers on an aging hitman who defends his son from a mob boss.
Neeson's comments might not amount to anything. Mind you, this is the same guy who said after Taken 2 that he just couldn't "see" a Taken 3 happening, and then changed his tune after Fox waved a $20 million paycheck in his face. People are allowed to, and often do, change their minds.
However, Neeson's more recent choices suggest he really is looking to break out of his rut. He's currently shooting Silence with Martin Scorsese, and his next two films are the rather un-Taken-like Ted 2 and A Monster Calls.