LOL: Breaking Bad Creator Begs Fans To Stop Throwing Pizza's On Walter White's Roof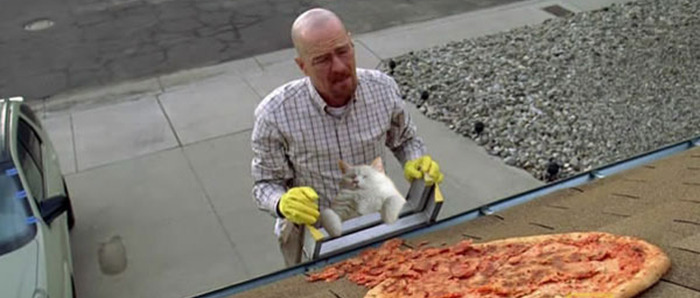 Deliberately throwing stuff onto a stranger's roof is a jerk movie pretty much any time, especially when the thrown object is something that is a pain to clean up and primed to slowly decompose. And when random people are throwing the same thing on the same roof over and over again, it gets really irritating. But some Breaking Bad fans evidently can't stop throwing pizza onto the roof of the house used as Walter White's home in the series, and that's becoming a problem for the people who actually live there. Now show creator Vince Gilligan is asking fans to cut it out.
On the Better Call Saul podcast episode which featured Jonathan Banks, Vince Gilligan scolded anyone who has emulated Walter White's skillful pizza toss, and tried to warn off those who might think about doing so in the future.
Vince Gilligan said,
"... Let me tell you, there is nothing original or funny or cool about throwing a pizza on this lady's roof... It's not funny. It's been done before. You're not the first."
And since Jonathan Banks was also around, he dropped into character as Mike Ehermantraut for a moment to add "... and if I catch you doing it, I will hunt you down."
Here's the podcast; the pizza talk starts at about 3:16.